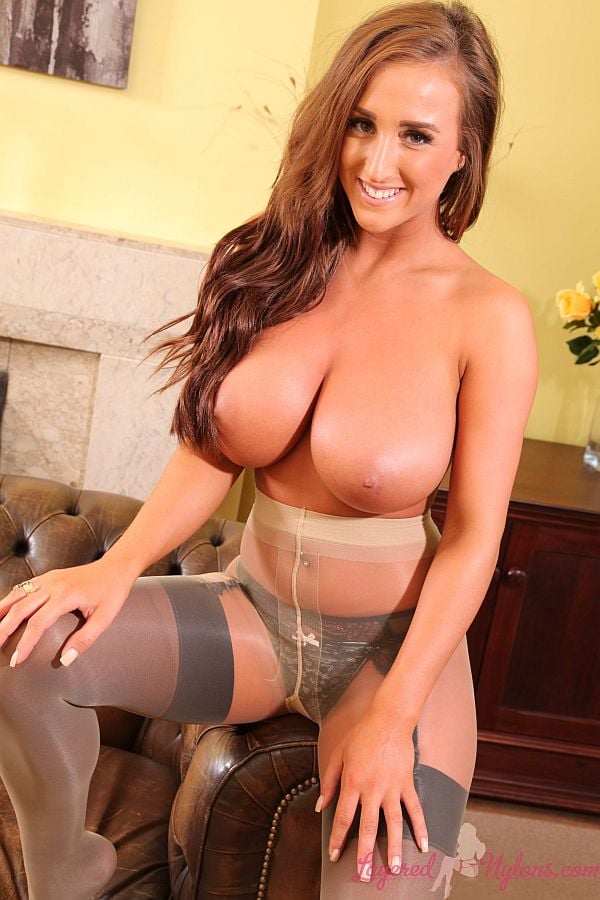 Stacey P was quick to show us what was under her dress at the start of her latest photo shoot, and lifting it up revealed she was wearing a layer of light beige-tan, sheer nylon pantyhose, over black lacy suspenders, stockings and a thong.
The combination of lingerie and nylon hose on her fabulous figure looked so hot and sexy, especially her suspenders stretching down her thighs and framing the triangle of her panties under her tights.
Holding her dress around her waist she turned to give us a view of her lovely ass, sheathed in the delicate nylon of her tan, sheer pantyhose. A thick seam ran between the cheeks of her butt and under her crotch, where the beige oval gusset stretched between her thighs.
Stacey posed on the leather sofa, displaying her long legs in shiny hose and dangling her heels from her toes before slipping them off. Letting her dress fall from her shoulders, she uncovered the mounds of her large, pendulous breasts as the garment slithered over the contours of her shapely figure and down to the floor.
Stacey posed topless in her lingerie by standing on her stockinged tip-toes and sticking out her fabulous ass encased in shiny nylon. Then reclining once more, she lifted her legs and crossed them at the ankles to display her sexy feet in their layers of nylon pantyhose and stockings.