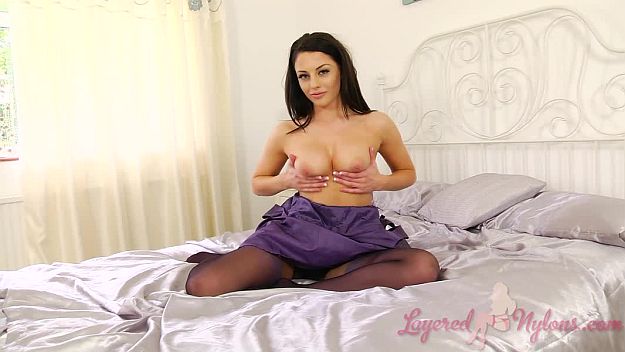 Jayne M poses in her short purple dress which flares out out around her thighs in black nylon hose, and makes a swishing sound as she turns on the spot in her purple suede, stiletto heels.
Jayne gives us up views as she shows off her legs in purple suspenders and stockings under the layer of sheer nylon tights. Wiggling her bum and lifting the dress higher, she bends and reveals her ass, clad in purple, full-back panties and the patterned seat of her pantyhose. As she sways her ass, her suspenders stretched taut over the cheeks of her ass and down her thighs, stretch and pull taut on the tops of her purple stockings.
She slowly walks over the bed and reclines on the sliver satin sheets, then lifting her legs she slips off her heels and draws back her knees to touch her ankles and pretty feet in their layers of nylon.
Jayne slips the dress over her shoulders and down her arms, teasingly squeezing her breasts and cleavage, before stripping the dress away and fondling the flesh of her pendulous boobs.
Getting up to stand in her stockinged feet, the dress slides down her legs to the floor, whereupon she steps out of it and turns to pose topless in her lingerie and layers of nylon hosiery.