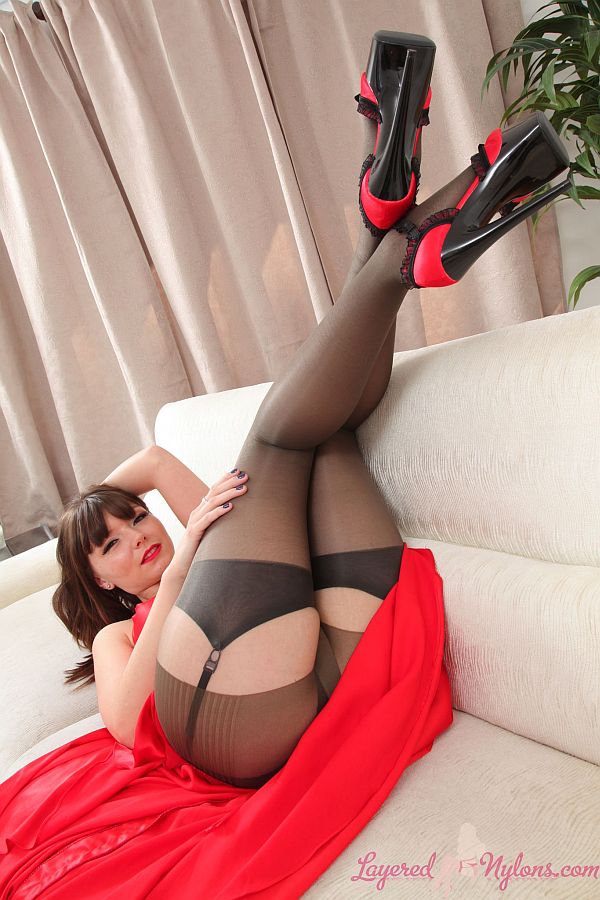 Helen looked elegant in her red evening dress as she stood and posed, the long folds covering her legs to the floor, set our imaginations racing as to what she may be wearing underneath…
We didn't have to wait long to find out as she lay back on the sofa and gathered the swishy material of her dress in her hands, pulling it aside to reveal black suspenders and stockings, under a sheer layer of grey nylon pantyhose.
Helen lifted up her legs and crossed them at the ankles to give a very sexy display of her red and black stiletto heels. Her suspenders stretched around and under her thighs, straining on the tops of her stockings as she moved her legs and rested them up on the back of the sofa.
Helen got up to stand in her heels, then drawing the material of her dress up around her waist, turned to give us a view of her pert ass all nicely clad in black panties and encased in the sheer nylon of her sexy pantyhose.
Reaching behind her head, she untied the halter-neck ribbon of her dress and allowed the front to fall away to uncover the pale flesh of her petite all natural breasts. She posed topless with the dress still around her waist, then let the garment slide down to the floor to finally reveal her suspenders and stocking tops, under the ribbed layer of hose that clung to her hips.
Helen reclined on the sofa and unbuckled her heels, allowing them to dangle from her toes before taking them off. She then lay on her back and lifted up her legs to show off the soles of her feet and rubbed them close together in their double layers of nylon hosiery.