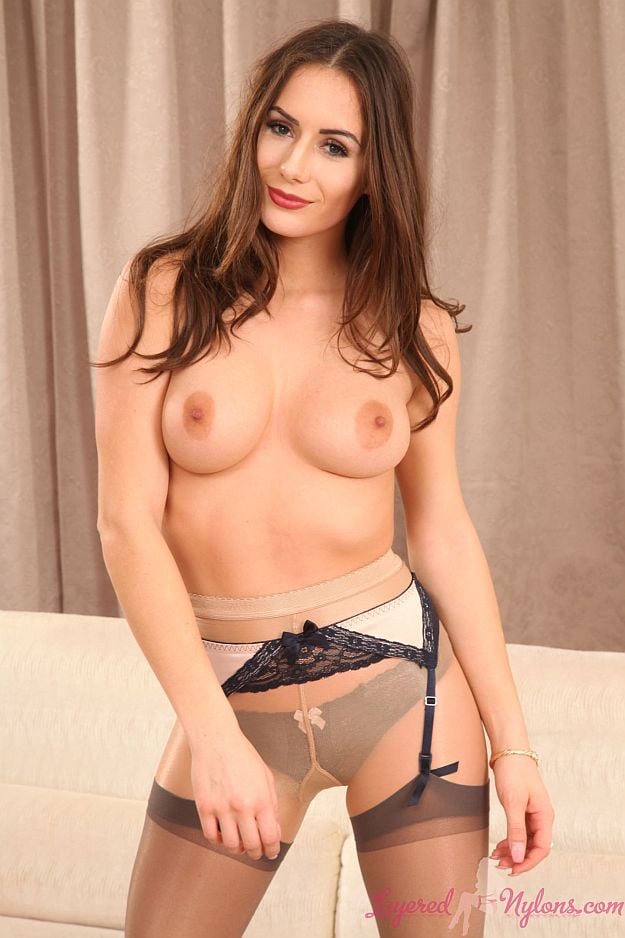 Busty brunette Laura H dressed casually and posed in a loose fitting top, black leggings and a pair of sport shoes at the start of this photo-session.
Untying the laces of her shoes, she took them off and lay back on the sofa to lift up her legs to show her feet clad in layers of nylon hosiery. Pushing her hands inside the waist of her leggings, she slid them down her legs to reveal black suspenders and dark tan stockings layered over beige, nylon pantyhose.
Laura swung around and sat on the edge of the sofa with her heels of her feet raised and stockinged toes touching the floor. Her legs moved slight apart, giving us a view of the semi-opaque oval of her pantyhose gusset stretched over the crotch of her panties. She stripped off her top revealing a black lace and peach colored bra that matched her suspender-belt and the panties under her sheer nylon hose.
Laura turned her back to us and released the catch of her bra, then slipped the strips down her arms and held the cups over her bust. She stripped the bra away and knelt on the sofa with her nyloned ass tilted up, her suspenders stretching over her buttocks and pulling taut on the tops of her sexy, tan stockings.