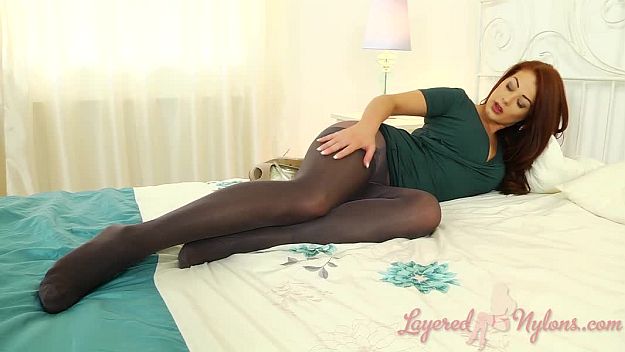 Amber Mae wears a green dress that clings to her ample bosom and the curve of her curvaceous hips and ass as she poses at the start of her teasing video.
Standing in her cream beige open-toe heels, the camera pans upward giving us a close-up of her shapely legs in shiny black nylon hose. Her hands follow the outline of her curves and she smooths the fabric of her dress against her thighs.
Amber lays on the bed and teasingly pulls back the dress to reveal black suspenders and stockings under the layer of her sheer nylon pantyhose. She rolls onto her side and caresses the cheeks off her ass, lightly drawing her fingers over her thighs white are perfectly encased in tight, sheer nylon pantyhose.
Amber slips off her heels and gently rubs her legs together, making her tights softly whisper with the sound of nylon on nylon. Kneeling on the bed she seductively lifts the dress and strips it off, revealing a black bra supporting her boobs and the lacy suspender-belt and panties under her hose.
Amber releases the catch of her bra and strips it away, exposing her all natural breasts and thick, reddish nipples. Sliding one hand down the front of her hose it moves around and stretches against the back of her hand, then she pulls the elasticated waistband outward and lets it snap back into place.
Getting up from the bed, she stands in her stockinged feet and poses topless, fondling her boobs and posing in her lingerie, stockings and pantyhose.