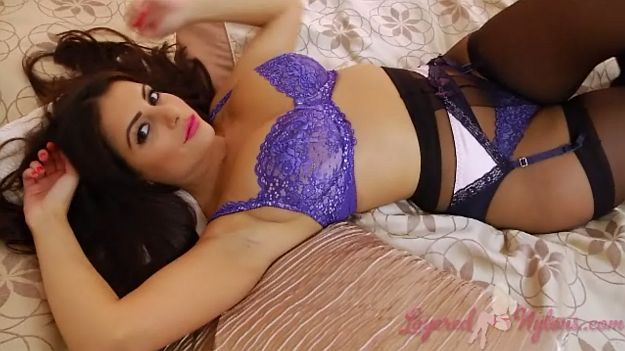 'Hi Guys, it's Charley and I hope you, like this sexy dress I've got on for you today,' says our gorgeous brunette, running her hands over her heavenly curves; the split in the front of her dress giving a tantalizing glimpse black nylon hosiery around her thigh.
Charley reclines on the bed and pulls back the fold of her dress, revealing dark purple suspenders and black stockings layers over her pantyhose. She repeatedly plucks her suspender strap and lets it snap back against her thighs, then slides her hand between the layers of nylon and runs her fingers around the tops of her stockings.
Charley takes off her shoes to get more comfortable on the bed and briefly rubs her petite nyloned feet together. She kneels and strips the dress over her head and reveals a pretty purple bra which matches the French knickers under the layer of her sheer nylon pantyhose.
Charley slips the straps of her bra over her shoulders and releasing the catch she teasingly holds the cups in place over her fabulous boobs. Stripping the bra away she massages her all natural breasts, jiggling them about and pressing the voluptuous flesh together in her hand.