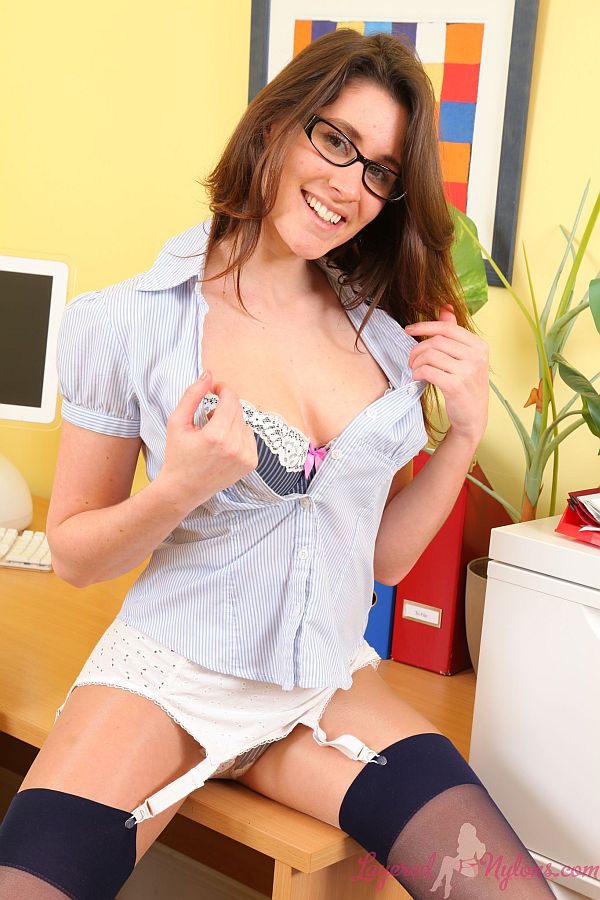 When bespectacled secretary Ulrika greets you with a smile as you enter the office, you know she is a fun mood for teasing you today in her sexy nylons and heels.
Perched on the edge of the desk with one foot resting on the chair, she displays her long legs and then opens them slightly to give you a tantalizing glimpse of her panties and white suspenders under her skirt.
Ulrika unzips her skirt and pulls it slowly down her long legs to reveal she is wearing a vintage style garter-belt and blue-black stockings over an almost invisible layer of beige-tan, sheer nylon pantyhose.
Pulling open the front of her shirt, reveals a pinstripe patterned, low cut bra that clings tight to her breasts and shows a modest amount of cleavage. Then stripping off the shirt, she reaches behind her back and releases the eye-hooks of the bra which springs open and falls away as she hide her breasts in her hand.
Turning around she uncovers her boobs and pushes her arm down the side of her pantyhose, under her garter-belt. Her hand slides down her thigh and her arm stretches her hose, as she gives a view of her sexy bum cheeks encased in their layer of delicate, sheer nylon tights.
Finally, Ulrika sits in the chair and slips off her heels, then with her legs parted, she pushes her hands down the tops of her nylons so that her suspenders strain on the top of her sexy nylon stockings.