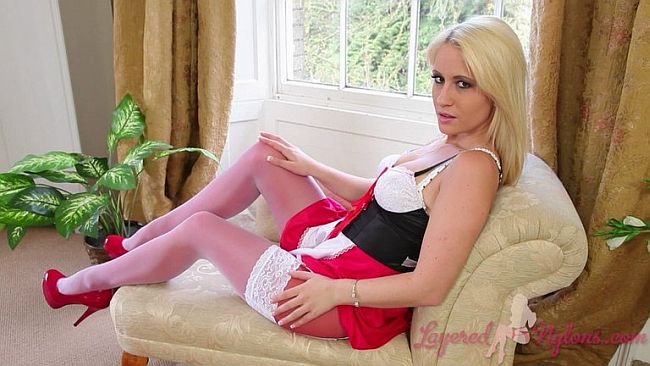 'Hi, I'm Candice and welcome to my striptease!' Candice smiled, looking quite alluring in her sexy Red Riding Hood costume, white stockings and red heels.
Candice put on a very sexy display, swaying her hips as her hand moved up her thigh, slightly lifting her short skirt and revealing the long white suspenders attached to the lace tops of her white stockings.
Standing, she lifted one leg and brushed it against the other, rubbing the surface of her nylons together, her hands caressing the outline of her shapely figure.
Removing her hood, she sat with her feet on the couch so that her skirt fell around her hips, revealing the layer of red pantyhose she was wearing under her white suspenders and stockings.
She slipped her fingers down the lace tops of her stockings and moved them over her thigh, then lifted the skirt up to display her white lacy suspender belt,  the suspenders framing her pantie thong under the layer of red, sheer nylon hose.
Kneeling to give a rear view, she sat back so the cheeks or her ass spread inside the seat of her pantyhose. Her white suspenders stretching over the surface of her red hosiery, pulled taut on the tops of her stockings as she moved her hands over her buttocks, encased in their layer of tight, clingy nylon.