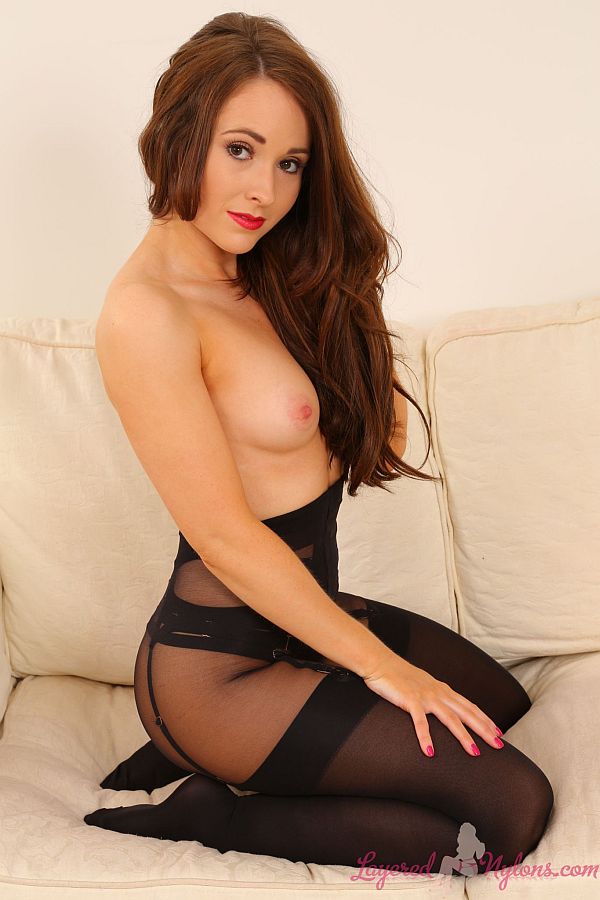 Tammy dressed in a blue maids costume, having a bodice that laced up the front and a short gingham skirt which flared out around her thighs.
Tammy lifted the skirt to give a tantalizing view of her black suspenders and stockings, under a layer of sheer nylon pantyhose. The cheeks of her ass looked so sexy encased in nylon and bounded by black suspenders; her shapely legs looked perfect, clad in black stockings and the shiny, red leather of her stiletto heels.
Tammy stripped off her costume, revealing an beautifully designed set of black lingerie – the bra, suspenders and pantie thong, delicately patterned with a fine metallic thread.
Slipping off her heels, Tammy knelt and rested her elbows on the arms on the sofa, her lower back curved so her ass was tilted upward. Then she lifted the lower half of her legs and pointed her pretty feet vertically, posing in classic pin-up style. She swung around into a sitting position and slowly teased out of her bra, stripping it away to display her petite all natural breasts.
All in all, this is a fantastic set featuring Tammy in some gorgeous lingerie and a treat for lovers of legs and feet in layers of black hosiery.