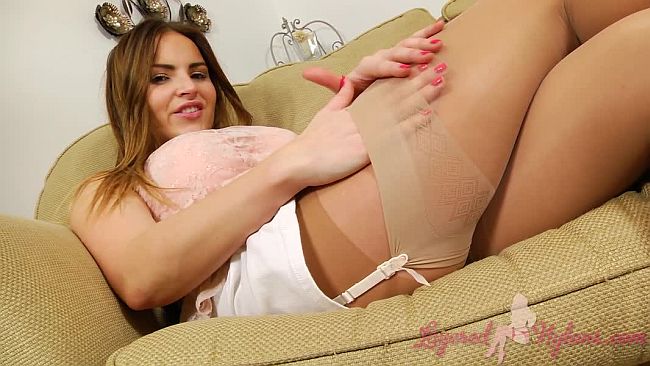 Taylor is a petite babe, with nice curves and a bust which thrusts against the sheer lace of her peach colored top. She lifts the back of her short white skirt and reveals she is wearing white suspenders attached to beige stockings, over silky nylon tan pantyhose.
Taylor reclines on the sofa and gives a naughty smile as she slides her hand down the tops of her stockings, making her suspenders strain on the beige, stocking tops. Slowly easing off her heels, she lifts up her legs to point her pretty feet in their layers of nylon and gently rubs them together, so sexily.
Standing in her stockinged feet, Taylor slowly slides her skirt down her shapely legs to the floor and steps out of it. She looks amazingly sexy as she places her hands over the front of her sheer top and feels her bust through the tight fitting lace. She gently turns from side to side to show off her lovely curves and the white garter belt around her broad feminine hips, the suspenders nicely framing the pink panties under her sheer pantyhose.
Taylor strips off her top, revealing a pretty pink bra and massages her incredibly rounded tits through the loose fitting cups. Slipping the bra straps over her shoulders, she strips it away and kneads the flesh of her magnificent all natural breasts in her hands.