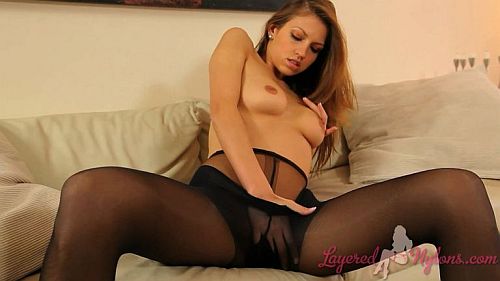 'Hi, I do hope you enjoy your time with me in this outfit,' says sexy glamour model Eufrat, as she stands looking very elegant in her slinky black dress, nylon pantyhose and patent leather heels.
As the camera pans up Eufrat's long, slender legs in shiny, black hose, she gently lifts the hem of her dress to give brief glimpses of her thighs clad in a double layer of seductive dark nylon.
Laying back on the couch she lifts her dress up higher to reveal she is sans panties under the almost opaque layers of her tights. Then slipping her hand between the double layers of her pantyhose, she stretches one layer of hose up her belly, while she pushes her other hand down to feel her nylon covered thighs.
Eufrat removes her dress to reveal she is naked underneath, exposing her fabulous breasts with their pert, erect nipples. She then pushes her hands once again between the layers of pantyhose to feel her nyloned crotch, and smiles with sensual pleasure as she continues to explore her legs under the sheer nylon surrounding her hips and thighs.
Eufrat writhes in erotic delight on the couch, enjoying the sensation of her naked body sheathed in a cocoon of nylon. Taking hold of the waistband of both layers of pantyhose firmly in her hands, she streches them in different directions and up her flat belly to the level of her naked breasts.
See gorgeous brunette Eufrat teasing in a double layer of black, sheer nylon pantyhose in her video at Layered-Nylons.