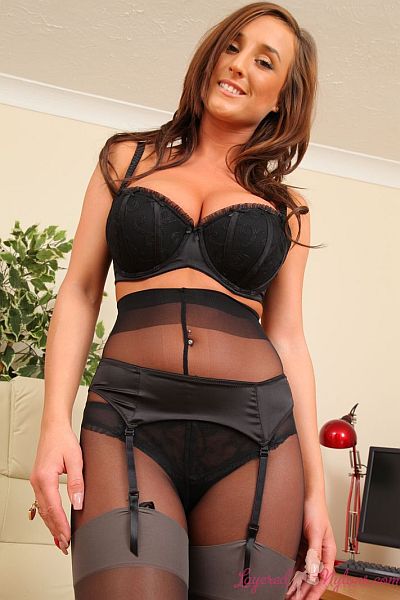 Busty secretary Stacey's tight black satin skirt had been creating something of a reaction amongst the guys in the office, ever since the first day she started wearing it to work.
She doesn't mind her reputation of being the office tease, after all it's just a bit of fun, and the guys love it when she sits at her desk and allows the edge of her skirt to raise over her thigh to give the briefest glimpse of her stocking tops.
Stacey arrived for this photo shoot in the very same satin skirt, wearing a rather tight fitting, pewter coloured satin top, through which we could see the outlines of her bra delineated under the shiny material.
Sitting in the chair Stacey gave a mischievous smile and slowly pulled back the hem of her skirt to reveal she was wearing a layer of grey nylon stockings over sheer black pantyhose. She lifted one leg onto the edge of the desk to give us a better look, causing the long black, satin suspenders to stretch over her thighs and pull on the tops of her nylon stockings.
Stacey turned around to kneel in the chair, then pulled down her skirt over the cheeks of her nyloned ass,  uncovering the 'La Senza' satin suspender belt which fitted tightly around her hips and the triangle of black thong that disappeared under the cleft of her buttocks.
Having removed her top she teased the straps of her black bra over each of her shoulders and discarded the garment to allow her naked, pendulous breasts to hang free. Then reclining in the chair once more, Stacey smiled naughtily as she slipped off her heels and offered some close-up views of her sexy feet in their layers of nylon.
See Stacey P teasing in the office in layers of lingerie, stockings and nylon pantyhose in this 130 image photo set at Layered-Nylons.