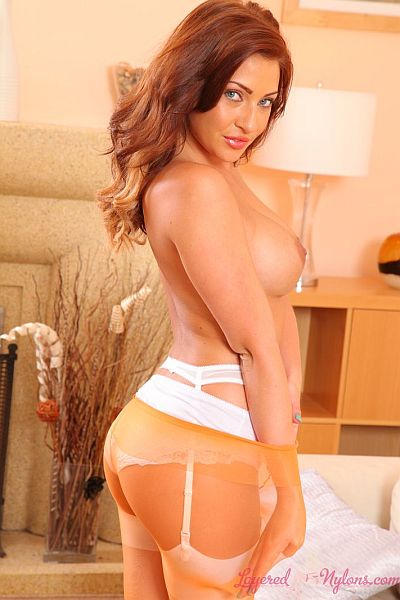 Gracie was sitting on the edge of the sofa, extending her long legs which she slightly crossed at the ankles and heels. Smiling, she gently lifted the edge of her orange dress to show she was wearing white stockings and suspenders under a layer of orange pantyhose.
There was a glimpse of white lace trim around the edge of her panties, and kneeling with her dress pulled up higher over her ass revealed they were of the full cut variety that fitted snugly around the cheeks of her behind.
Unzipping her dress she turned to give a back view as she let is slip off her shoulders and down her back, pulling it over the globes of her sexy ass sheathed in a layer of sheer nylon.
Gracie then reached round her back and unhooked the eyelets of her white bra, slipping the straps over her arms and gradually revealing her fully, rounded breasts with their pert brown nipples. She pushed her hands down the rear of her sheer pantyhose to feel her buttocks through her white panties, then moved her hands and wrists around the inside of her hose, making the front panel stretch as she pushed it outwards.
Retiring the the couch, she slipped off her white stiletto heels and lay back with her legs raised to give close-up views of the soles of her feet in a double layer of nylon.
See Gracie teasing in a layer of coloured pantyhose over white nylon stockings in this 134 image photo set at Layered-Nylons.