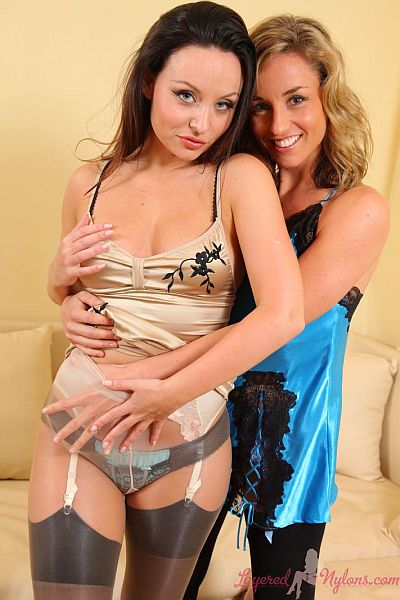 Carla and Melanie are very great friends who like to go out shopping together, especially when it comes to buying lingerie. They had just come back from a shopping trip where they purchased various items and like most girls they were keen to try on their new lingerie when they got back.
Melanie had bought a blue satin slip and some opaque stockings, which she decided to wear with her blue suspender over some light yellow pantyhose and panties. Carla was wearing a very sexy gold satin slip and shiny beige pantyhose over a pretty cream suspender belt, black stockings and panties.
Both girls decided it would be fun to embrace so they could both feel the others' sexy lingerie for themselves.  As they both pressed their bodies together, Carla slipped her hand down the back of Melanie's pantyhose and gave the cheeks of her ass a gentle squeeze.
Melanie then pushed her hand down the front of Carla's sheer shiny hose and felt the bumps of her suspenders attached to the tops of her black nylon stockings, then touched the soft, bare naked flesh of her friend's thighs.
Both girls became increasingly frisky and stripped off their slips to bare their breasts, then they kissed and spent a sexy afternoon touching and admiring each others sexy lingerie. It was a lot of fun!
See lingerie models Carla and Melanie teasing each other in their layers of nylon pantyhose and stockings in this 123 image photo set at Layered-Nylons.