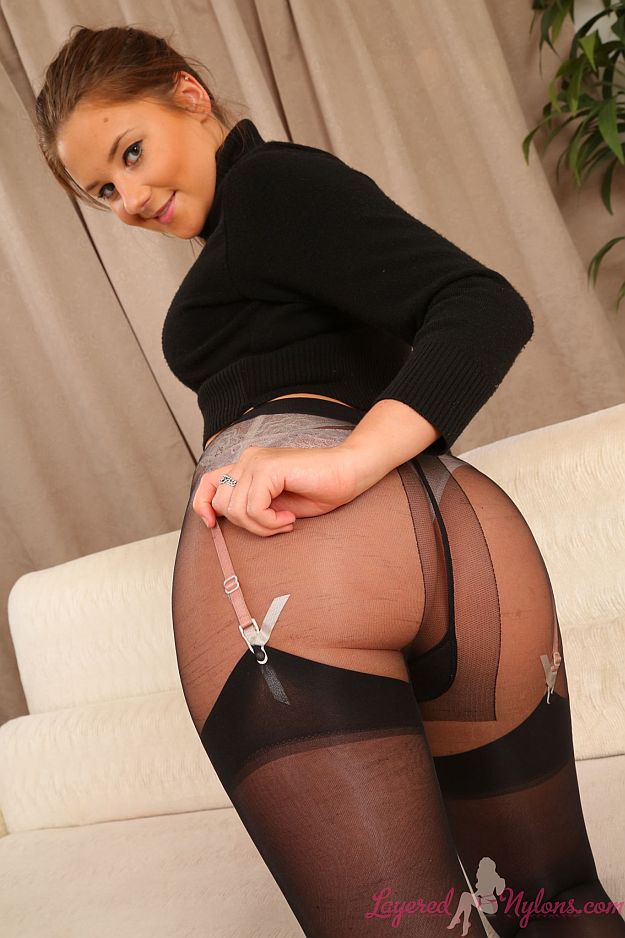 Saffron looked so sexy as she posed in her super hot outfit – close-fitting top, a tight leather skirt and her shapley legs in black hosiery and stiletto heels.
Saffron turned her head and smiled, flaunting her fabulous ass in that short leather skirt that clung to her thighs and offered glimpse of stocking tops below the hem. She posed to display her shapley legs which looked especially alluring in their black layers of nylon hosiery and sexy, stiletto heels.
Saffron unzipped the front of the skirt and opened it out around her hips, revealing pretty white lace panties, a matching suspender-belt and black stockings, under sheer nylon pantyhose. She turned to give a rear view and caressed the curve of her shapley bottom, perfectly bound by the pink straps of her suspender-belt and all nicely sheathed in the layer of her black nylon hose.
Saffron stripped off her stretchy black top and revealed the peach-white lace bra underneath that matched her suspender-belt. She slipped her hand inside the front of her hose and over the crotch of her lace panties and stroked the soft flesh of her thighs above her stocking tops.
Running her thumb under the thin straps of her bra, she slipped them down her arms and stripped the bra away from her chest to reveal her petite, all natural breasts. Then she pulled the waist of her pantyhose up her front so the reinforced gusset and long black seam stretched tight around the crotch of her pretty lace panties.