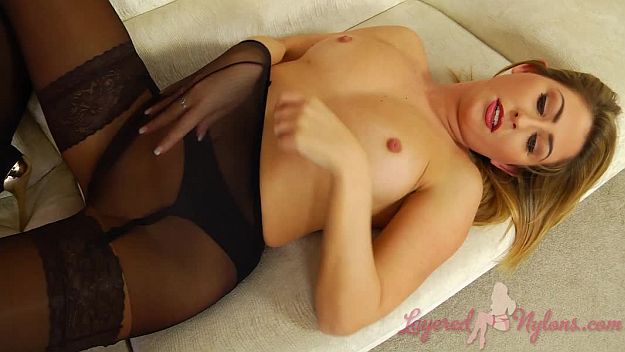 Shapely blonde Sophie Star pulled back the hem of her dress over her nylon clad thigh and lifting one leg she placed the foot on the sofa. She reached down to her ankles and drew her hand up her leg to her lace stockings tops under the layer of her sheer nylon pantyhose.
Sophie turned and lifted the front of her dress, revealing that she in sans panties under her sheer nylon tights. She pushed her hand down the inside of her pantyhose and her hand roamed over her splendidly shaped thighs and across her stockings and the black suspenders under the layer of tight nylon.
Sophie reclined on the sofa and put on a very teasing performance, lifting her legs high and pressing them together so her gold stiletto heels pointed vertically. Her hands caressed her gorgeous legs and slipped between her thighs and over her nylon covered crotch, then she turned over and spread her palms over her fabulous buttocks encased in their tight layer of nylon hose.
Sophie stripped off her dress, revealing a sexy half cup bra that framed the underside of her breasts and exposed the nipples. Removing the bra, she lay on her back and slipped her hands under the stretchy nylon layer of her pantyhose and caressed her stocking tops and splendid thighs in their sexy nylon hosiery.