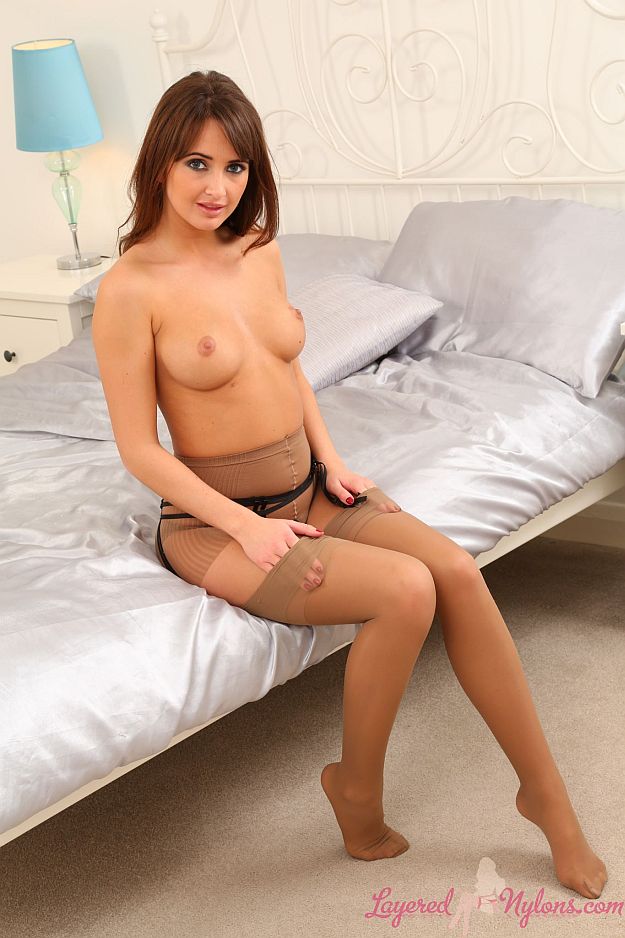 Pretty brunette Gina B showed off her new party dress and stripped down to her black underwear and sexy layers of beige-tan hosiery in this scene.
Gina reclined on the bed in her black dress and stretched out her legs which looked so smooth and sexy in their beige-tan hose and open-toe heels. She shifted onto her knees and pulled up the back of the dress, revealing black suspenders and stockings layered over beige-tan hose and black panties that clung to her shapley buttocks.
Gina swayed on her knees and moved her ass from side to side, the black suspenders stretching taut and binding her buttocks under the layer of panties and beige-tan hose. She looked over her shoulder and slipped her hand between the layers of nylon and explored her thighs, causing her black suspenders to stretch and pull on the tops of her beige-tan stockings.
Gina took off her shoes and unzipped the back of her dress, then as it slipped down her arms she got up to stand by the bed in her stockinged feet. She pulled down the top of the dress and revealed her gorgeous all natural breasts as the garment slipped down her legs to the floor.
Gina stepped out of the dress and posed topless while pulling up the waist of her pantyhose so the gusset stretched tight around the crotch of her black pantie thong.