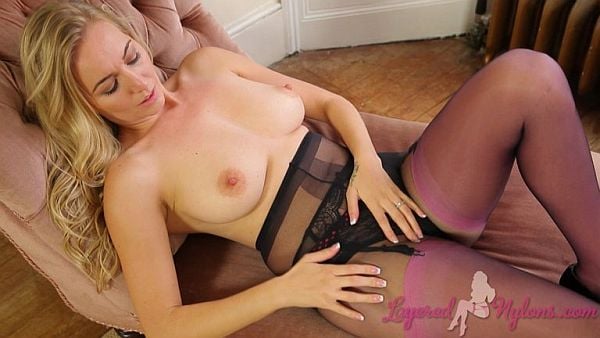 Hayley-Marie was standing by the chaise-longue moving her hands over the outline of her shapely figure dressed in an elegant, black evening dress which covered her legs right down to her heels.
She swiftly parted the slit side of the dress to give a glimpse of her legs covered in nylon, then lifted it higher to show she was wearing a layer of sheer black pantyhose over pink nylon stockings.
Pushing the slippery material of her dress up over her hip revealed taut black suspenders that stretched over her thighs to the tops of her stockings. Then she sat on the chaise-longue with the dress puled up to her waist and legs slightly parted to offer a view of her lacy black panties behind the layer of her nylon tights.
Hayley-Marie slipped the thin straps of her dress over her shoulder and letting it fall away revealed she was wearing a black lacy bra and suspender belt that matched the panties, all encased by sheer to waist pantyhose.
She removed the bra and allowed her all natural breasts to hang free and then lay back to squeeze them together in her hands and caress the surface of her long legs in their shiny layers of nylon.
Pulling on the waistband of her pantyhose, she slipped her hand down the front of her tights and moved it over the front of her pantie crotch, then pushed her fingers right under the top of her pink stockings to feel the warm flesh of her thigh.