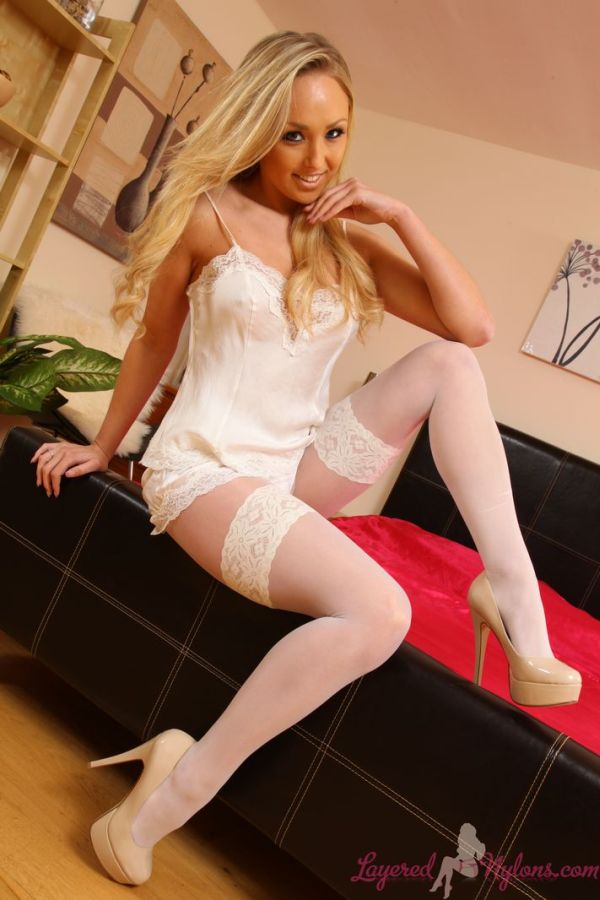 Blue eyed babe Danni Morgan smiled as she stood with hand on hips, her long blonde hair falling over her shoulders to where the faint trace of her nipples showed as bumps under the thin material of her white lacy camisole.
She was very pleased with the whole vintage look of this outfit which was completed by white silky knickers, plus some lace topped stockings that clung to her fabulous legs as she stood and posed in her cream coloured heels.
Sitting on the edge of the bed with her legs parted to show the crotch of her lacy panties framed by her thighs, it was just possible to see the almost nude layer of shiny cream pantyhose that she was wearing under her white stockings.
Danni lay back and teased her white silky knickers down her legs until they were wrapped around her ankles and then pulled and stretched them over her heels before discarding them to one side.
Kneeling on the bed revealed she was wearing tiny lace panties under her sheer to waist pantyhose, and then slipped the thin straps of the camisole over her shoulders and pulled it down to uncover her peachy breasts with their pink nipples. She then presented her ass encased in tight white nylon, under which the back of her panties formed a 'whaletail' as the thin material of her thong cut between the cheeks of her buttocks.
Danni then slipped off her heels and displayed her pretty feet and soles in their layers of creamy white nylon in various close ups as she lay flat on the bed with her long legs stretched out behind.