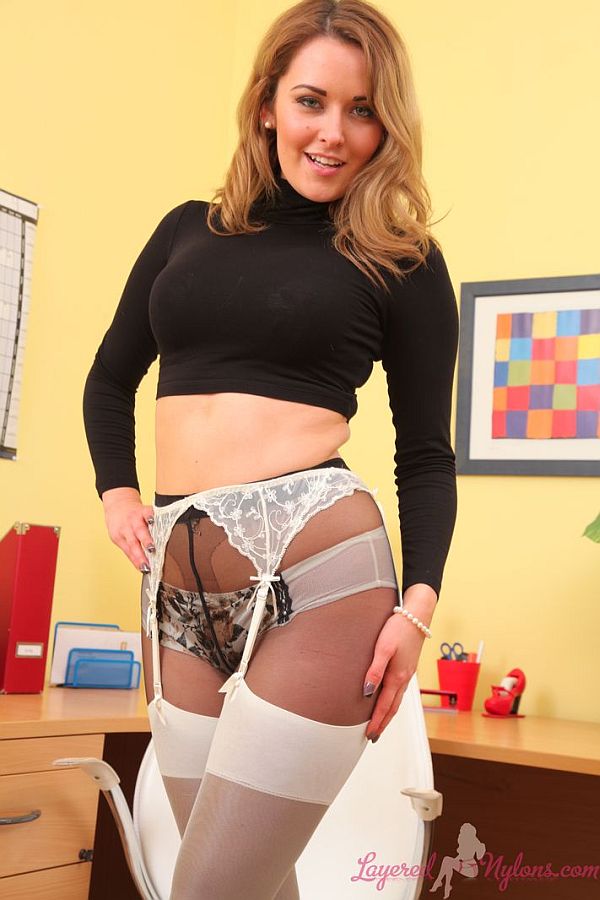 Zoe Alexandra would make the perfect secretary the way she's dressed today, ensuring heads would turn to eye up her ass in that saucy mini-skirt and legs in their layers of black pantyhose, white suspenders and stockings.
Zoe knelt in the office chair to give a rear view of her shapely ass in her tight cream skirt, below which her white suspenders stretched down the back of her thighs to the tops of her white nylon stockings.
The striking contrast of her white lingerie and stockings against the black sheer pantyhose that sheathed her buttocks and thighs produced a mesmerizing effect that totally drew the eye to her luscious posterior as she wiggled her bum from side to side.
Zoe unzipped the skirt at the back and pulled it down over her ass encased in black sheer nylon layered over white silky full-cut panties. Then she turned for a frontal view to fully reveal the lacy garterbelt slung around her broad feminine hips and the taut suspenders pulling on the tops of her stockings, which framed the pretty satin inlay in the front of her panties.
Zoe teased up the front of her black top and pulled it over her head to uncover her bra which matched the floral pattern on her panties, then sat back in the chair to show off her legs and untied the laces of her shoes to display her nyloned feet.
Slipping the straps of her bra over her shoulders, she pulled it away from her chest to expose her all natural breasts and slightly pushed the mounds together between her arms as she sat with her hands resting on her knees.
Zoe climbed onto the desk to pose with her legs open for a view of the black gusset patch covering her crotch and then lifted up her legs to point her feet in their layers of opaque nylon.