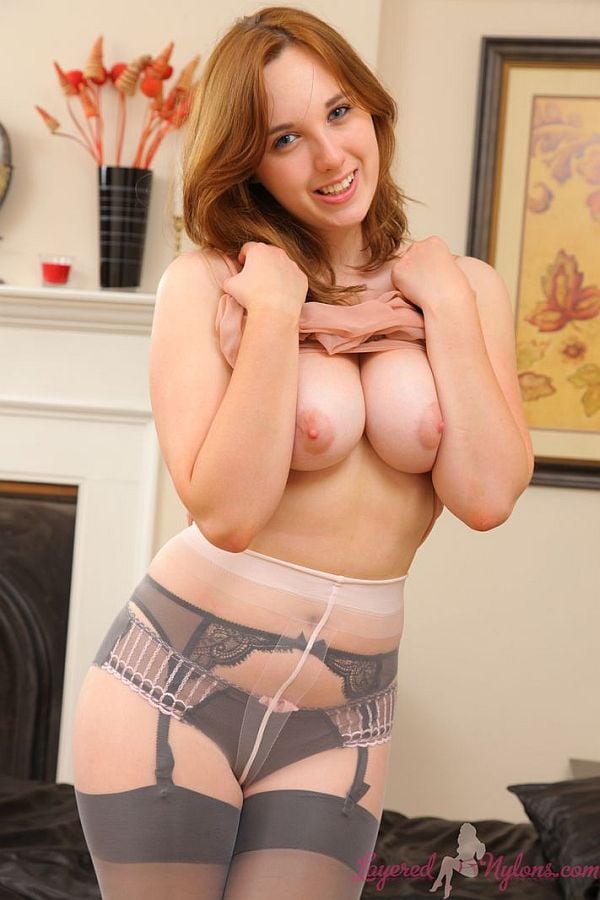 Eve looked very enticing as she posed in her sheer camisole, through which the fleshy mounds of her breasts and the circles of her aureoles showed clearly though the sheer fabric. The outlines of her panties, black suspender belt and stockings tops appeared tantalizingly visible as she turned to give us a view of her fabulous figure draped in diaphanous nylon.
Kneeling on the bed she lifted the camisole at the rear so as to give us a view of her deliciously round ass sheathed in it's layer of sheer nylon pantyhose. Black panties fitted tightly around the cheeks of her bum under the layer of pantyhose and black suspenders stretched down the back of her thighs and pulled on the tops of her nylon stockings.
Lifting up the front of her camisole revealed the fullness of her all natural breasts and she pressed them together with the sides of her forearms. She then stretched the hose right up her waist so they were just under the level over her boobs and the seam of her hose pulled tight around the crotch of her panties.
Eve then slipped off her cream coloured heels and laying back on the bed she lifted her legs upwards and brushed them together as she gave a view of the soles of her dainty feet covered in their layers of sexy nylon.