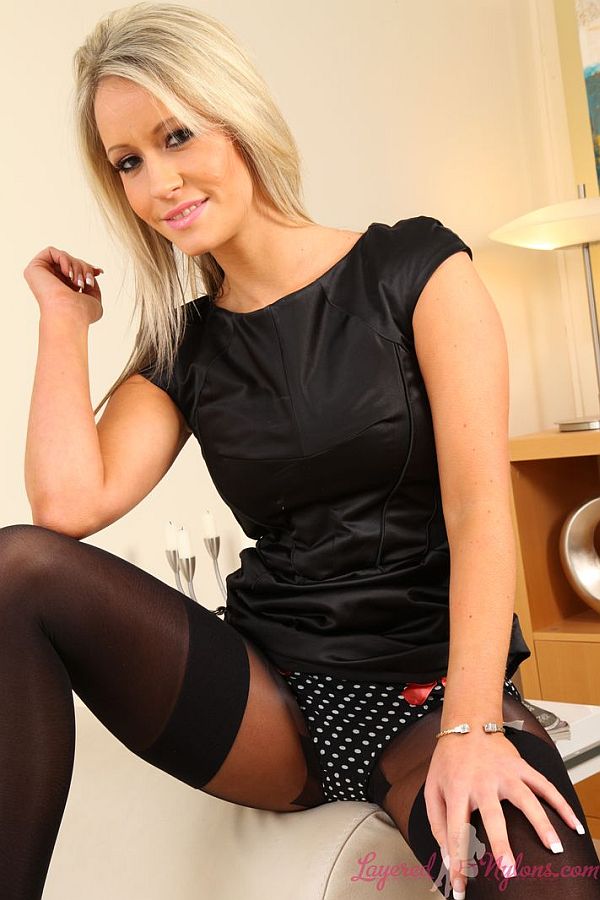 Stunning blonde haired Candice wasted no time in lifting her satin dress to give us a view of her sexy polka dot panties, lacy garter-belt and black nylon stockings all layered over black sheer nylon pantyhose. What a view!
Her sexy panties fitted so snugly around her shapely hips and under the curve of her crotch, and her black suspenders which pulled tight against the shiny black nylon covering her sensual thighs, radiated down to the tops of her black nylon stockings looked amazing.
Candice turned to give us a rear view of the cheeks of her ass in those close fitting panties and unzipping the back of her dress she lifted it over her head to reveal she was also wearing a matching polka dot bra with a peach coloured satin bow at the front.
Hooking her thumbs into the waistline of her panties, she slowly pulled them down until they were stretched tightly around the top of her thighs and revealed the broad black reinforced pantyhose seam that ran up from her crotch to the waist of her sheer nylon tights.
Candice then sat with her panties still stretched around her thighs and slipping the straps of the bra over her shoulders she held the cups in place as she removed it, before turning to show her breasts and pose topless.
She tugged the panties down her stockinged legs and slipped off her heels, then knelt on the couch to give a rear view of her magnificent derrière sheathed in it's layer of shiny black nylon hose.
The curve of her buttocks framed by the suspenders of her La Senza garter-belt stretched over the shiny black nylon and down to the tops of her sexy stockings as she knelt and leaned forward to lift up her feet in their layers of black nylon.