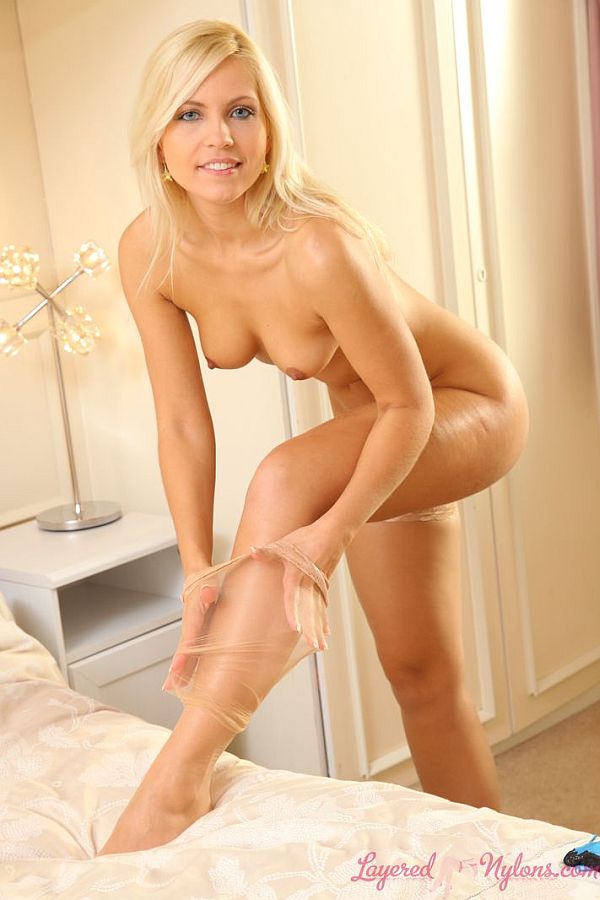 Jenni lifted the back of her blue satin camisole to give a view of her shiny pantyhose that tightly encased the cheeks of her ass and were layered over some 'Falke' beige coloured hold-up stockings with a delicate pattern around the tops where they clung to her thighs.
Laying on the bed she pulled the camisole up and revealed she was sans panties under the high waisted sheer nylon pantyhose she was wearing, then she pushed her hands down the front of her hose and spread her fingers over her thighs close to the tops of her beige stockings.
Standing near the window she removed the satin camisole and then pulled on the waistband of her hose so they were tight around her crotch and stretched them right up to her naked breasts.
Jenni lay once more on the bed and rolled her pantyhose down to her thighs, then gathering the nylon in her hands she slipped them down her legs and pointed her toes as she stretched and pulled them over her dainty feet.
Standing in the nude she slipped off her stockings and pulled on her pantyhose, then gathered up her stockings and rolled them back up her pantyhosed legs.
Jenni then stood and posed topless, offering full frontal views of her fabulous figure and shapely ass, thighs and legs sheathed in their sexy, shiny nylon tights.