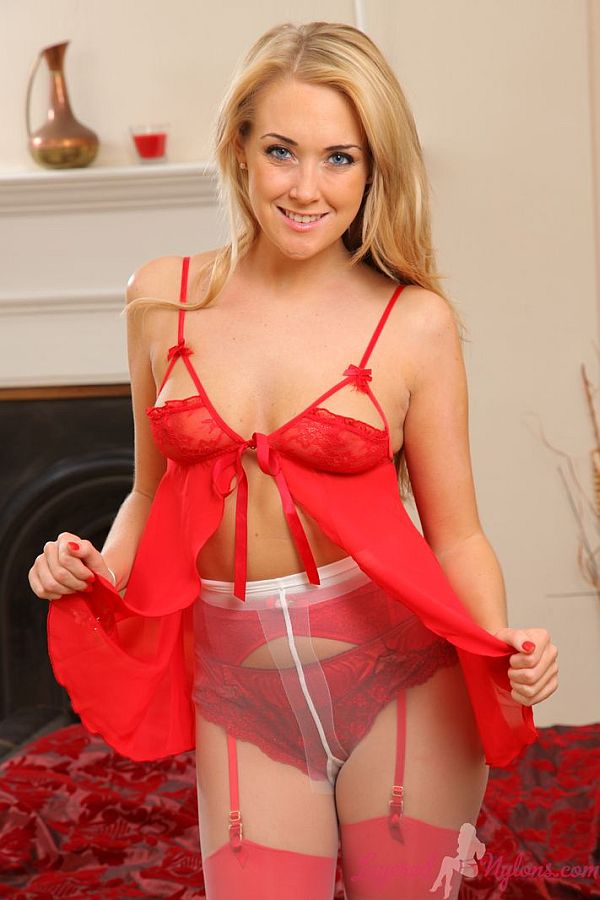 Lucy-Anne stood and opened the front of her red baby doll nightie to show she was wearing red stockings, suspender belt and panties under a layer white, sheer nylon pantyhose that went up to her waist.
Laying back on the bed she lifted her legs and crossed them at the ankles and her red suspenders stretched around the curve of her buttocks and pulled taut on the the tops of her red nylon stockings.
Lucy-Anne hooked her thumbs into the waistband of her pantyhose and slightly lifting her ass off the bed she pulled them down to the tops of her thighs, then rolled over to give a rear view of her hose stretched just under the soft, flesh of her buttocks.
Removing her nightie she grasped the front of her hose and stretched them up to her naked breasts, then slipping off her red heels she posed topless with her legs open to give a view of the white patch of her pantyhose gusset covering her crotch between her thighs.