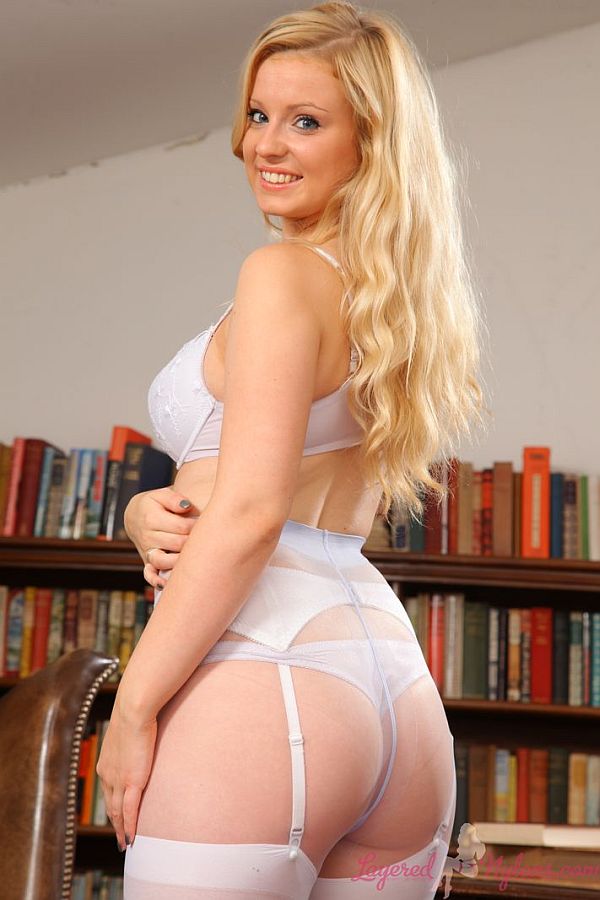 Sexy librarian Hollie knelt in the leather chair and lifted the back of her tight skirt to show the long, white suspenders that stretched over her thighs and down to the tops of her white nylon stockings which were layered over sheer nylon pantyhose.
Hollie slipped her skirt down her legs to show she was wearing light blue panties under her hose, then opened the front of her shirt to reveal the matching bra that uplifted and pushed her cleavage together.
Slipping the bra straps over her shoulders she held the cups in place and lifted the mounds of her breasts, before pulling the bra away and uncovering her pendulous tits.
Hollie slipped off her shoes and standing with her long blond locks falling down to her naked breasts she tugged on the waistband of her pantyhose. She then turned to show off her lovely ass encased in nylon and the taut suspenders stretching over her buttocks and pulling on the welt of her sexy nylon stockings.