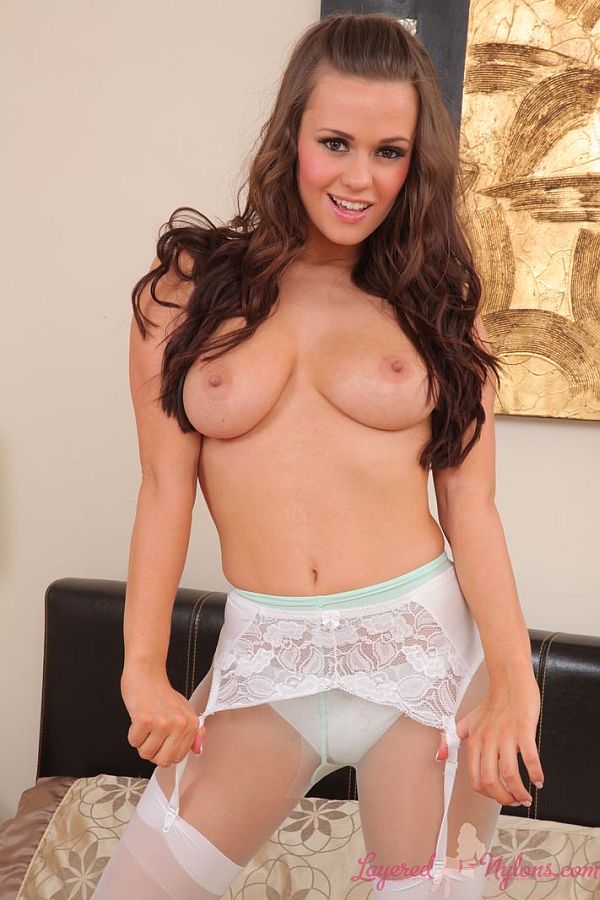 Busty brunette Emma K reclined on the bed and a glimpse of white suspender fixed to the tops of her white nylon stockings appeared below the hemline of her shiny, satin nightie.
Slipping off her heels she got into a kneeling position and lifted up her nightie to show she was wearing a pretty lace suspender belt around her hips, which framed the white panties that showed through the layer of her sheer nylon pantyhose.
Emma lay on her front and looked back over her shoulder and smiled as she offered a view of her ass encased in nylon and the pastel power blue gusset patch that stretched over the crotch of her sexy nylon panties.
Lifting her nightie over her head revealed the mounds of her all natural breasts and their hard pink nipples that stood erect as she posed topless in her white, lacy lingerie and layers of nylon.
Emma swept her long brunette hair back so it fell over one shoulder and then stretched her pantyhose so it was pulled up high around her waist and around her pantie crotch.
Climbing onto the bed she showed off the lovely curves of her buttocks sheathed in tight fitting nylon, then laying back she lifted her legs upwards and pressed them together to present views of her dainty feet cocooned in their layers of stockings and pantyhose.