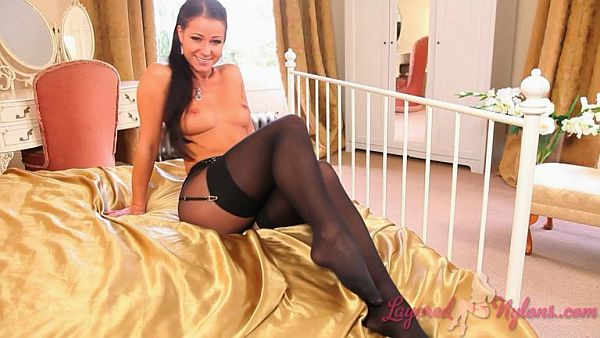 Kristina looked very seductive in her clingy black dress as she swayed her hips and smoothed her hands over the sensual curves of her shapely figure.
Turning around she lifted her dress over the cheeks of her delectable ass sheathed in a layer of black nylon pantyhose and ran her hands over the mounds of her round buttocks as she continued to sway her ass in a very erotic way.
Her hands moved either side of the sexy black seam of her hose as she felt the warm nylon clinging to her ass, and brushed her fingers over the metal clasps of her suspenders attached to the tops of her black nylon stockings.
Turning to give a frontal view revealed she was sans panties under her pantyhose and her fingers playfully caressed the area around her crotch and plucked the taut suspenders that stretched to her stocking tops.
Sitting on the bed she slipped off her patent leather heels and allowed them to dangle briefly from her toes before kicking them away, then pulled her dress down her body and stood to ease it over her nyloned ass and let it slip down her legs.
Kristina posed topless as she lay on the bed with her legs stretched out behind and provided a view of her pantyhosed ass, then flipped her legs so they swung at the knees and displayed her dainty feet in their layers of nylon.