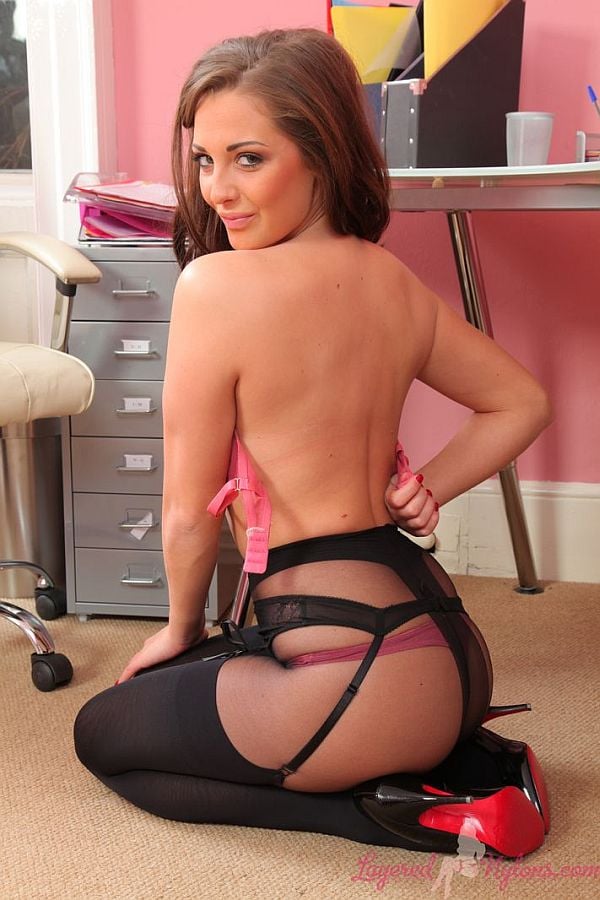 Daisy Watts told us about the time she went for an interview in this exact outfit and wore black stockings and suspenders under her tight fitting skirt.
'I thought about sitting cross legged so my skirt would ride up my thigh and flash my suspenders and stockings tops at the guy who was interviewing me, but thought better of it,' she confessed, giggling slightly as she stood posing in her smart outfit in our office.
We asked her to show us just how she'd liked to have teased the interviewer and she slowly pulled up the front of her skirt to reveal her black suspenders attached to the tops of her opaque stockings.
She took off her jacket and leaned over the chair so her tight fitting skirt was pulled tight around her ass and revealed she was wearing sheer nylon hose, over which her suspenders stretched down her thighs to the tops of her black stockings.
Daisy unzipped the dress at the back and pulled it down to uncover her pink satin, under-wired bra and show she was a wearing pink pantie thong under the layer of black sheer nylon pantyhose that clung to her her waist and hips.
She reached around her back and unhooked the eyelets of her bra, then slipping the straps over her shoulders she stripped it away and uncovered her perfectly formed all natural breasts with their soft pink nipples.
Daisy sat and slipped off her heels and let them dangle awhile from her stockinged toes and then posed topless while standing tip-toe in her stocking feet.