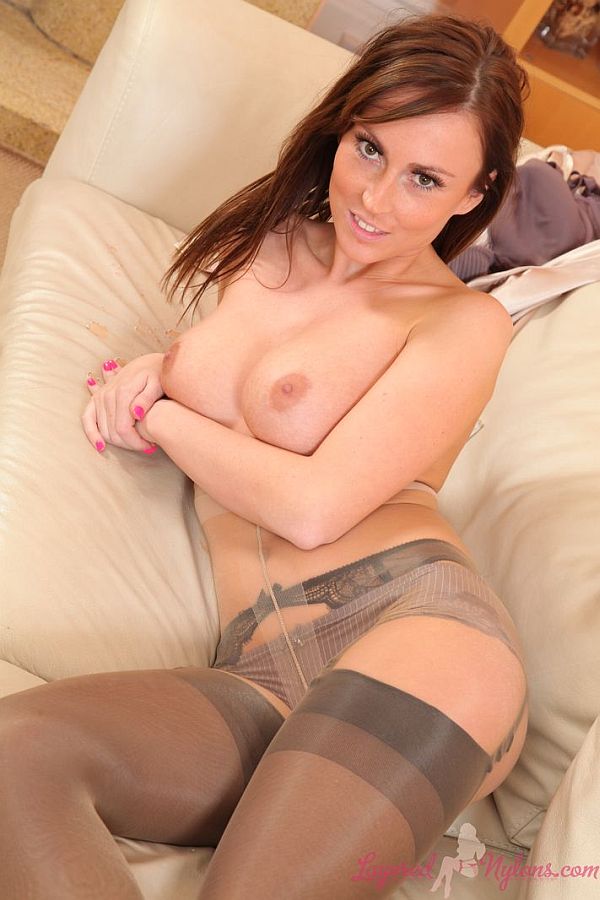 Lauren performs a reverse striptease in this photo set where she gets dressed and ready for work in her layers of nylon and sexy office attire.
Lauren was wearing her luxurious satin camisole which covered her naked body, then sitting on the sofa she gathered up her black nylon stockings and put each one over her feet and gently rolled them up her legs to the top of her thighs.
Next, she took her skimpy black suspender belt and placed it around her waist, then stood up and pulled each of her garters down to the tops of her stockings and attached them to the black welt.
Stepping into her pinstripe panties she pulled them up her stockinged legs and around her hips, then slipped the satin camisole over her shoulders and let it fall away to fully reveal the soft mounds of her all natural, naked breasts.
Sitting on the arm of the sofa she gathered up her beige pantyhose and slipped them over each of her feet, then pulled them up to her waist so they were layered over her panties, suspenders and stockings.
Lauren posed topless in her lingerie and leaned forward to give a view of her of ass in shiny, sheer nylon hose, through which could be seen her tight panties wrapped around the cheeks of her bum. Then laying flat on her back she lifted her legs and pressed them together to display the soles of her feet encased in their layers of nylon stockings and pantyhose.
Lauren finished by dressing in a pinstripe bra that matched her full cut panties and stretched her pantyhose high up her waist, before finally slipping into her dress and zipping it up the back.