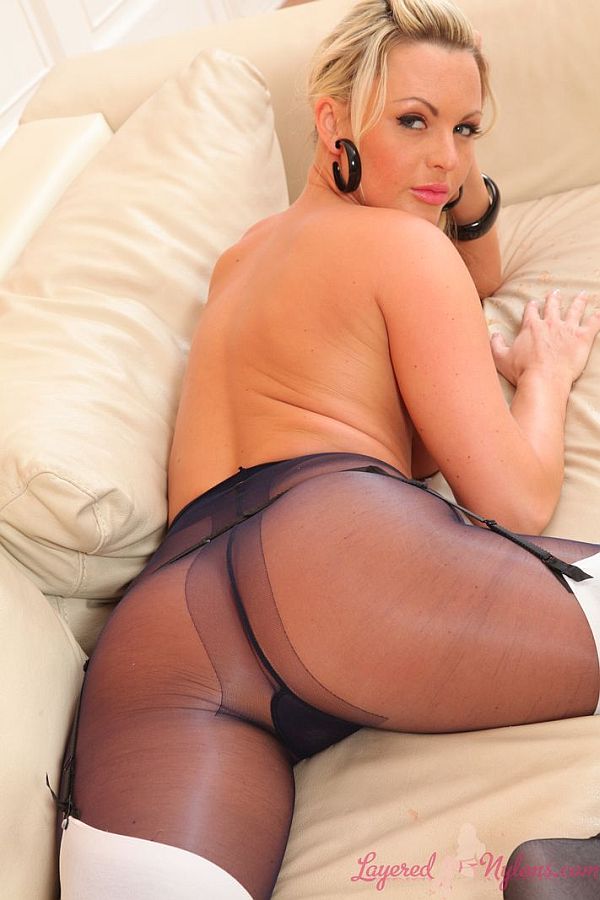 Sandra was all ready for a weekend of fun dressed in her black leather jacket, striped dress and layers of nylon in this photo set at Layered-Nylons.
Sandra intended to spend the weekend with her boyfriend and shared with us a special surprise that was guaranteed to ignite his passion…
'Here, let me show you,' Sandra said, turning around and smiling as she looked back over her shoulder and lifted the back of her dress to show the tops of her white nylon stockings, which were contrasted against the sheer black nylon of her pantyhose covering her shapely thighs.. 'What do you think of that, boys?'
We nodded our approval her choice of sexy attire and mentioned that her lucky boyfriend was certainly in for a treat this weekend.
'Well, that's not all, just wait till you get a look at this,' Sandra said, then sat on the arm of the sofa and slowly spread her legs to reveal that she was sans panties under the sheer nylon crotch of her pantyhose. 'Now, this is what I'm meant when I said I had a special surprise for him!'
Sandra then stood and lifted the front of her dress for a closer look at the crotch of her pantyhose and the sexy oval circle of the gusset that barely concealed her nakedness beneath.
Stripping off her dress revealed she was not wearing a bra, then reclining on the sofa she posed topless and removed her heels to show she was wearing some black nylon socks over her stockings.
Sandra then lay on her front and smoothed her hands over the surface of the shiny nylon pantyhose that encased the cheeks of her fabulous ass, and lightly brushed her fingers over the black garters of her suspender belt which pulled tightly on the tops of her white nylon stockings.