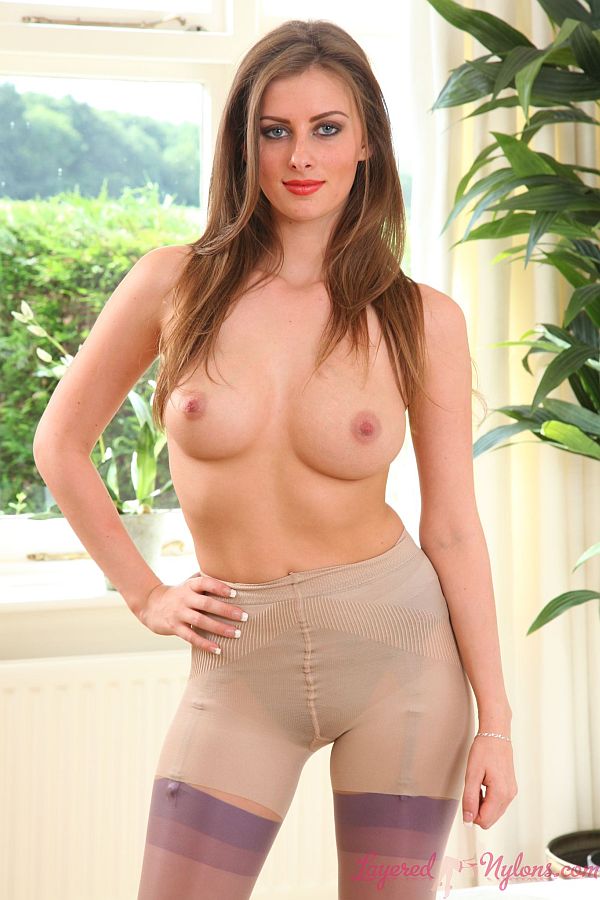 Danielle's gorgeous long brunette hair fell over her shoulders and down the front of her elegant, silk evening dress, towards the plunging neckline which exposed and revealed a certain amount of her cleavage.
Reclining on the sofa she pulled back the folds of her dress to show she was wearing beige coloured, long leg knickers, layered over her pantyhose and nylon stockings. Then kneeling she gave a rear view of her fabulous ass sheathed in those incredibly sexy knickers, through which the raised outlines of her suspenders could clearly be seen.
Danielle stood and eased the straps of her dress over her shoulders and allowed it to fall down the length of her slender figure, to reveal her all natural breasts with their pink, puffy nipples.
Posing topless in her sexy layers of lingerie and nylons, she pushed her hands down the inside of her waist high knickers and spread her fingers over the flesh of her ass and thighs. Then laying once more on the sofa, she slipped off her heels and stretched out her long legs to display her lovey ass, while giving close up views of her feet in their opaque layers of nylon.