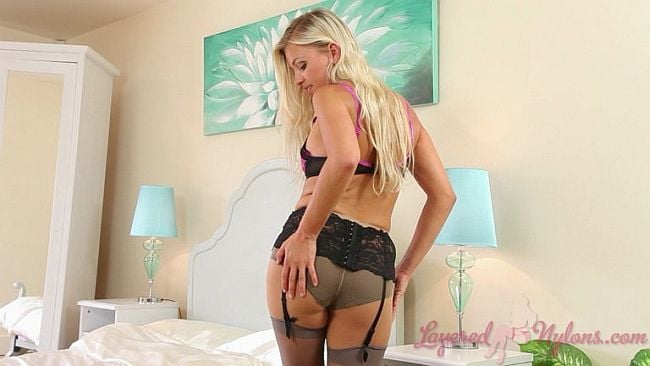 'Hello, this is Blanca and I hope you are going to enjoy this strip show,' said our gorgeous blonde babe from the Czech republic, who had recently come over to do some photo and video work for us this summer.
Blanca was wearing a white, sheer nylon top through which you could see her floral patterned bra and a short black skirt that clung to the curves of her sexy ass.
At first it looked like she was wearing only tan nylon pantyhose, but when she bent over to slide her hands down her shapely legs, we glimpsed the dark bands of the her stocking tops under her skirt as it lifted up her thighs.
Blanca drew her hands up her legs and standing upright she spread them over her ass cheeks, then teased up the edge of her skirt so the grey tops of her stockings and suspenders came fully into view.
Sitting down on the edge of the bed, she opened her legs so we could see her matching floral panties through the tan coloured, sheer nylon of her pantyhose. Her hands moved around her thighs and over her pantied crotch in a very erotic way, then she rolled further onto the bed and slipped off her heels to display her pretty feet.
Blanca stripped off her white top to uncover her colourful bra, then stood and moved very sensually as she pulled down her black Lycra skirt to reveal she was wearing a deep, black lace suspender belt around her hips.
Slipping the straps of her bra over she shoulders, she carefully stripped it away and cupped her hands over her breasts for a moment, before removing them to uncover her pink, puffy nipples which looked quite erect.
Blanca cupped and squeezed her breasts together and rubbed her forearms over the nipples, then sprawling on the bed she ran her hands over her body in her layers of lingerie, nylon stockings and pantyhose.