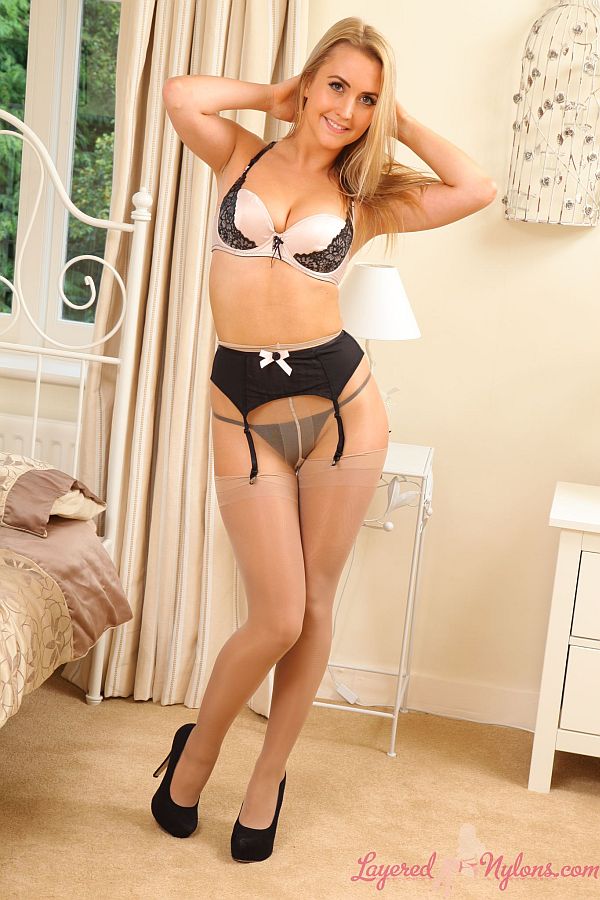 Catherine inched up the hem of her leopard print dress, just enough to give the first glimpse of her black suspenders attached to the tops of her tan nylon stockings.
Her stockings were layered over light denier, sheer nylon pantyhose, which were almost the same tone of her skin and nearly invisible against the flesh of her thighs.
Kneeling on the bed she pulled up her dress to give a view of her lovely ass, sheathed in a delicate layer of pantyhose nylon. The thin straps of her black panties around her hips, ran between the cleavage of her buttocks, all nicely framed by taut black suspenders that pulled on the tops of her stockings.
Catherine stripped off her dress to show she was wearing a pink bra with a black lace decoration around the cups, a black nylon suspender belt and the tiny triangle of her pantie thong.
Removing her bra to reveal the mounds of her all natural breasts with their small, pink nipples, she then sat on the bed and slipped off her shoes. Then laying back she opened her legs and showed the oval gusset of her crotch and close up views of her feet in their opaque layers of beige nylon stockings and pantyhose.