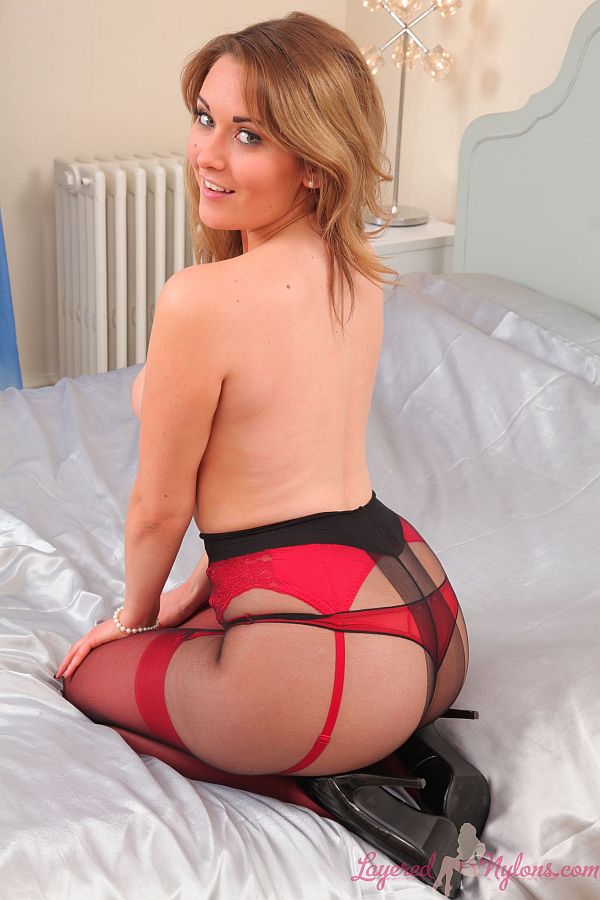 Zoe Alexandra's pink chiffon dress clung to the outline of her curves, making her bust, hips and ass look very prominent as she stood and posed in her leather heels.
Pulling up the back of the dress revealed she was wearing a red silky, pantie thong, matching suspenders and stockings under some black, sheer nylon pantyhose.
Zoe swayed her curvaceous hips and ass, causing the long, red suspenders that stretched over the flesh of her buttocks and pull tightly on the tops of her sexy nylon stockings under the fine layer of sheer black nylon.
She stripped off her dress to show her all natural breasts with their soft pink nipples, then sat on the bed and slipped off her heels, allowing them to dangle from her nylon covered toes.
Zoe lay face down on the bed and stretched out her legs behind her to offer close up views of her sexy feet in their reddish-black layers of nylon stockings and pantyhose. Then lay back and opened her legs to show her red lingerie and silky panties behind the black reinforced crotch of her sheer pantyhose.