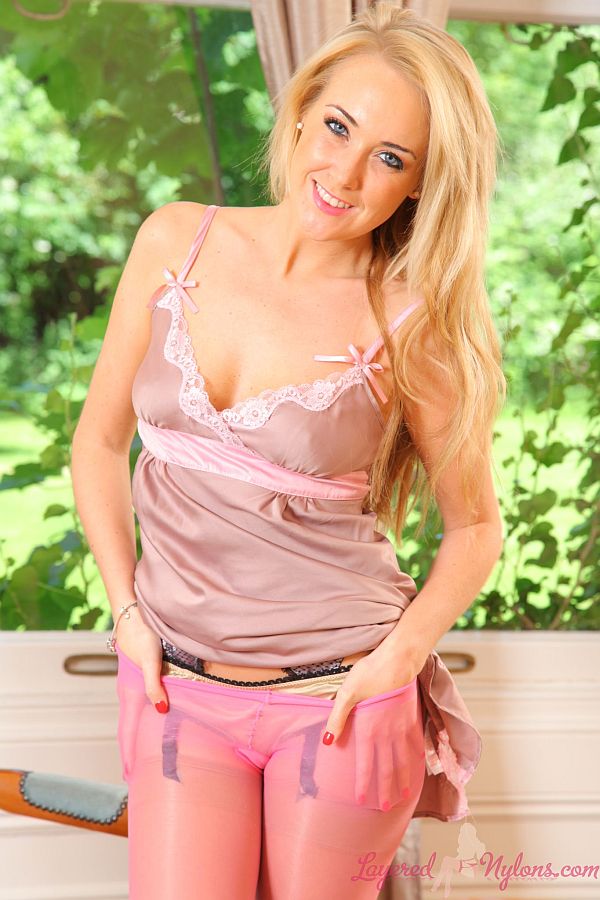 Lucy Anne looked pretty in pink as she lifted the back of her slip and revealed she was wearing silky gold coloured panties, black suspenders and beige-tan nylon stockings under a layer of candy pink pantyhose.
Pushing her hand down the rear of her hose she spread her hands over her panties and down to her thighs to touch the tops of her Charnos elegance, natural tan stockings.
Laying on the floor she lifted her legs and gave close up views of her feet as she rested them on the arm of the chair. She then she sat back up to kneel and began to remove her slip, letting it slowly fall away from her chest and uncover her all natural breasts.
The slip continued to slide down the remainder of her slim figure and legs, where she finally kicked it away, and hooking her thumbs into the waist of her pantyhose, she pulled them down to her thighs and uncovered her silky suspender belt and panties.
Lucy Ann's luxuriant, long blonde hair fell over her shoulder as she smiled, stretching her tights up the front of her belly as she stood and posed topless in her layers of lingerie and nylon.