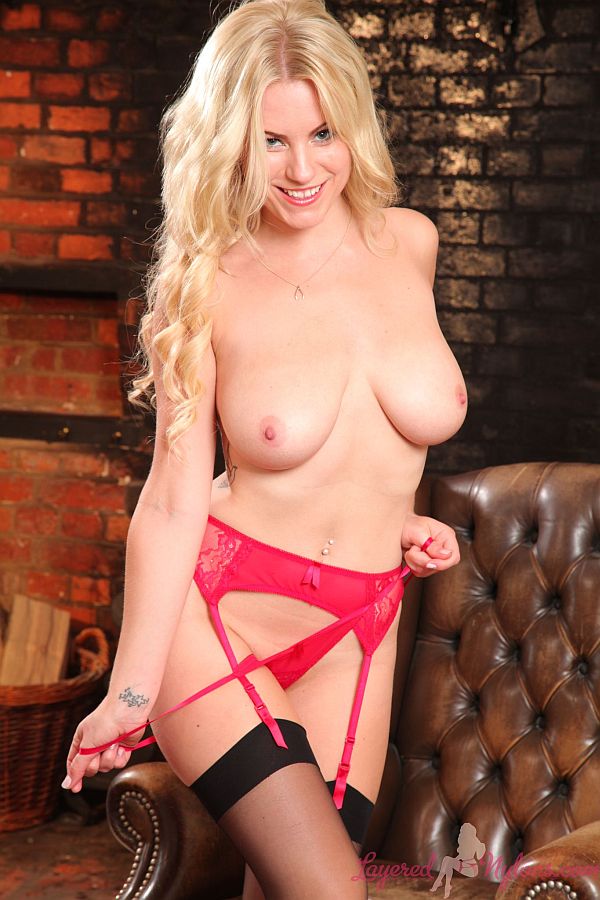 Blonde babe Billie had a lot of fun doing this photo session, which you can tell by the big smile on her face as she flaunts her figure in a short, black leather skirt and layer of red pantyhose over stockings and suspenders.
Billie stripped off her pink top and stood posing in her red bra and leaning forward she pulled her tight skirt over her buttocks sheathed in it's layer of red nylon. The line of her red suspenders running around the curve of her ass cheeks pulled taut on the tops of her black nylon stockings under the layer of her hose, as she slipped the remainder of her skirt down her legs.
Billie sat in the chair and pulled the front of her pantyhose up her chest and over her breasts still in her bra, then leaned forward to slip off her heels and let them dangle awhile from her nyloned toes.
Standing once more, she unhooked her bra at the back and turned her blonde head to look over her shoulder as she stripped it away and revealed her all natural breasts. Then she pushed her hands right down the rear of her pantyhose and pushed them down over her ass and thighs, uncovering her red suspender belt, pantie thong and black nylon stockings.