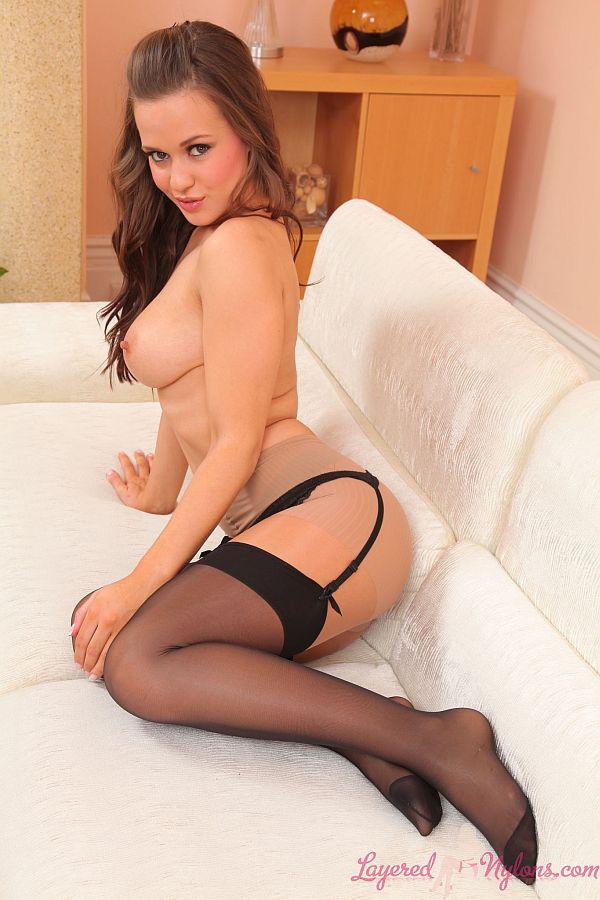 Emma looked very elegant in her party dress, which had an interesting opening at the front that gave a tantalizing glimpse of her cleavage pressed against the tight material.
The dress flared out at the sides and rustled as she lifted it up and to show she was wearing black suspenders and stockings over some very sexy beige-tan pantyhose.
Untying the halter-neck of her dress at the back, she gave a big smile as she pulled it down to reveal her fabulous all natural breasts, which looked perfect in shape and form. Then she turned and looking back over her shoulder she unzipped the dress, allowing it to slide over the cheeks of her pantyhosed ass and down her legs to the floor.
Stepping out of the dress she stood and lifted her arms, brushing her hands through her long, lustrous brunette hair as she posed topless in her layer of lingerie and pantyhose, under which she was wearing black panties.
Emma lay face down on the sofa and stretched out her pantyhosed legs behind her, then turned and slipped off her heels, allowing them to dangle from her toes awhile. Then she knelt on the floor and offered views of her gorgeous round ass sheathed in tan nylon hose. As she leaned over and tilted her ass upwards, her black suspenders expanded over her nyloned buttocks and pulled taut on the tops of her black nylon stockings.