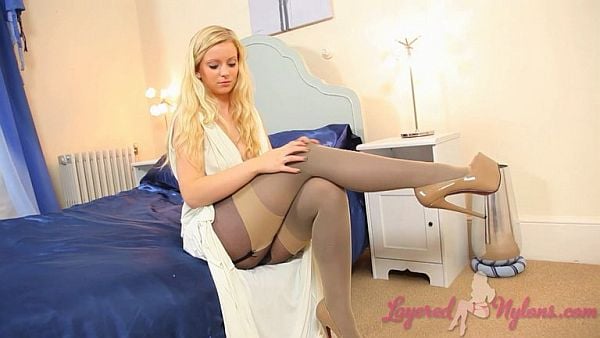 'Hi, I'm Hollie and I hope you like my striptease,' said our sexy looking blonde as she stood and lifted up her evening dress to show she was wearing beige-tan stockings over black nylon pantyhose and a pair of black panties.
Sitting on the edge of the bed she smoothed her hands up and down her legs clad in their layer of nylon, then crossed them over and slipped her fingers between the top of her stockings and her pantyhosed thighs.
Hollie turned to kneel on the bed, and lifting the back of her dress she gave a view of her lovely ass encased in tight fitting nylon, and her black suspenders stretching over her thighs and pulling taut on the tops of her tan stockings.
Laying on her side, she slipped off her high heeled shoes and pointed her dainty feet in their layers of opaque nylon, then ran her thumb under the taut elastic of her suspender and pushed her hand under the top of her tan nylons and felt her thigh.
Hollie removed her dress by pulling it over her head and revealed her perfectly formed, all natural breasts with their small, pink nipples. She stretched her black pantyhose up her waist until they were just under her boobs and then turned for a final view of her ass in it's layers of lingerie and sheer nylon hose.