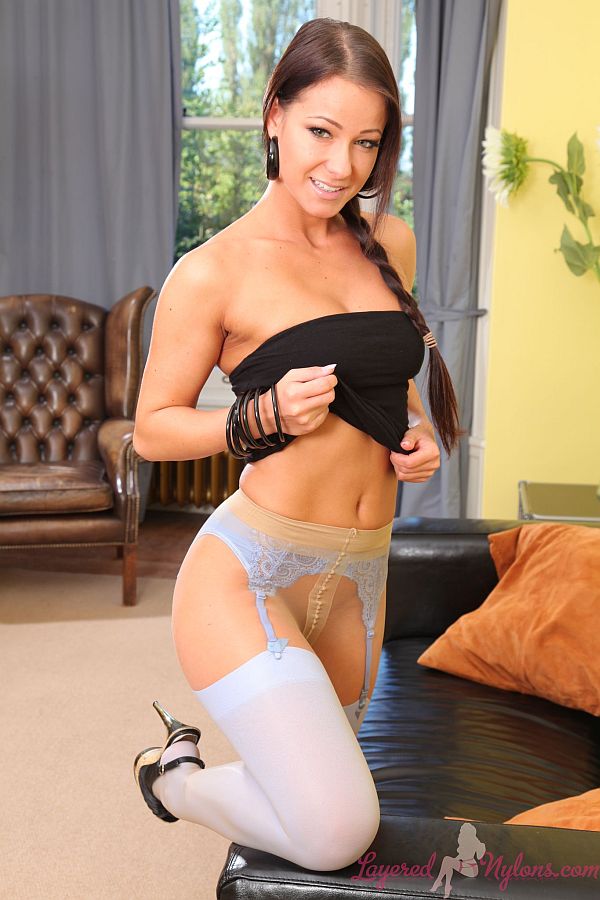 Kristina was ready to go out dressed to tease in a denim skirt, just short enough to reveal the tops of her plum coloured stockings she was wearing, under a layer of sheer, beige-tan pantyhose.
Kristina smiled as she lifted up the front of her skirt to show she was actually sans panties under her tan nylon pantyhose. She then turned around and unzipping the skirt she let it slide over down her legs, bending over as she did so to give a view of her peachy ass sheathed in a layer of shiny nylon.
Her matching plum coloured, lacy suspender belt, stretched and pulled taut on the tops of her stockings as she bent further forward and gave her tushy a wiggle.
Kristina removed her top to reveal her perfect, all natural breasts which had slightly upturned nipples, then sat and slipped off her heels and allowed them to dangle from her feet before removing them completely.
Laying back on the sofa, she opened her legs to expose her pantyhose crotch and the opaque, oval gusset patch which tantalizingly covered her intimate parts.
Kristina then knelt and stretched her hose up the front of her belly, so it pulled tight around her crotch and revealed wisps of trimmed pubic hair through the tan, sheer nylon that encased her mons pubis.