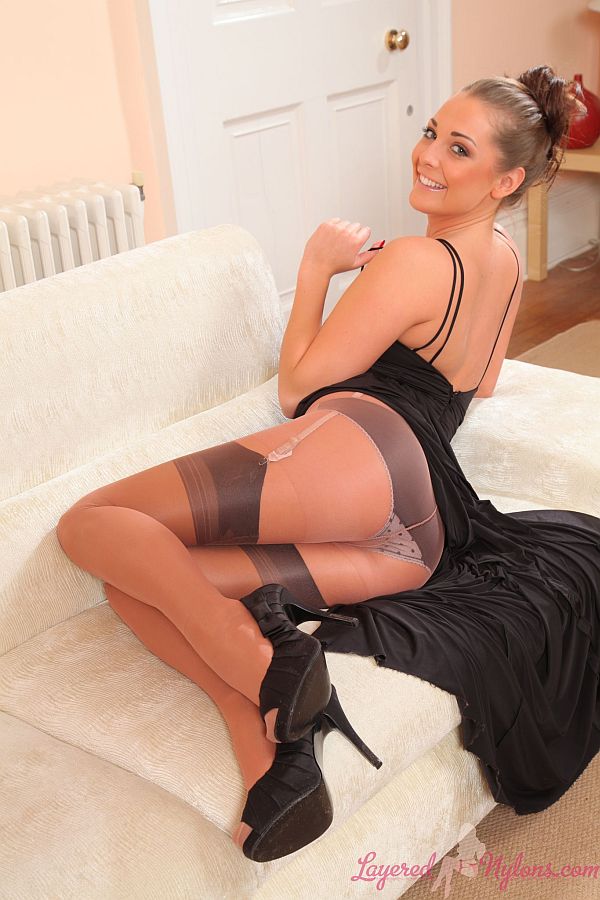 Daisy Watts looked delectable in her long, black evening dress which came right down to her feet, which in a way was mildly erotic, because it made you want to know what was under it even more.
Well, we didn't have to wait long before she let one of her legs appear through the slit in her dress and give us a glimpse of the top of her grey stockings around her thigh. Then she reached down and lifted the dress up to fully display her panties, suspenders and fully-fashioned stockings, which she was wearing under a layer of shiny, sheer nylon pantyhose.
Daisy turned and pulled the dress over her ass to show the back of her full cut panties and the long cream coloured suspenders stretching over her thigh, straining on the tops of her nylons. She looked back over her shoulder and smiled as she stood in her heels, showing off her fabulous legs in their shiny layers of nylon.
Slipping the thin straps of her dress down her arms, she allowed the dress to fall away and reveal her delightful all natural titties with their soft pink aureoles. Then she sat cross-legged and dangled her heels awhile, before kicking them away and displaying her sexy feet cocooned in silky, soft nylon.
Daisy stretched her pantyhose right up her waist and pulled it tight around her pantied crotch and the pretty, satin polka dot suspender belt around her hips. Then she lay on the sofa and stretched out her legs to present close up views of the soles of her feet in their layers stockings and pantyhose.