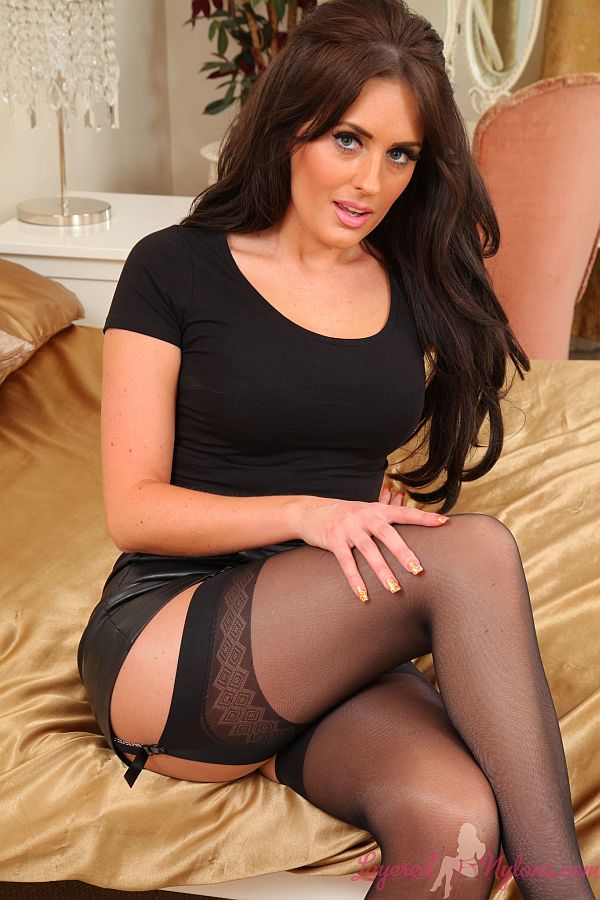 Emma looked smouldering as she stood with her long brunette hair flowing over her shoulders, hands around the waist of her mini-skirt which was so tight you could see the bumps of her suspenders through the leather.
The skirt was short enough to give a glimpse of the pretty tops of her Italian black stockings, and stood so we could get an up-skirt view of her taut suspenders straining on the tops of her nylons.
Sitting on the edge of the bed she opened her legs slightly to give another upskirt view and revealed that she was wearing a layer of beige-tan pantyhose over a lacy thong.
Emma unzipped her skirt and stripped it off, then knelt to give a full on view of her fabulous ass encased in the layer of her tan pantyhose and those black suspenders stretching down her thighs and pulling once more on her sexy stocking tops.
Having removed her top, she revealed she was wearing a lacy bra that matched her panties and the sheer nylon of her skimpy suspender belt which was layered over her pantyhose.
Emma then stripped off her bra and lay back to slip off her heels, dangling one of them from her toes, then stretched out and lay flat on the bed to offer more views of her sexy nyloned legs and the soles of her feet in their layers of pantyhose and stockings.