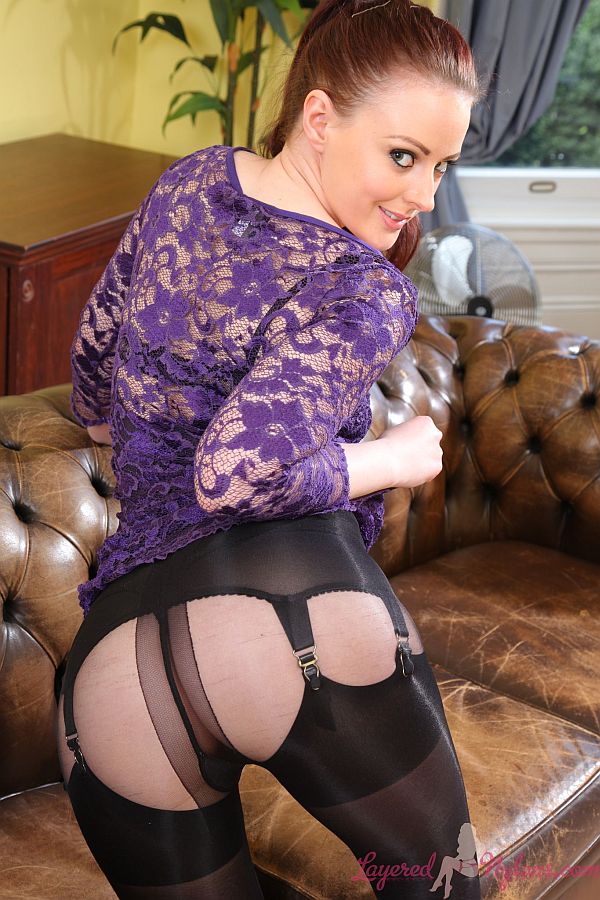 Bex R was ready to go out to a club dressed in a purple lace dress through which you could see the suggestive outline of her black underwear.
Lifting up the back of her dress revealed she was wearing a black basque and short suspenders with metal clasps that were attached to the shiny, silky welt of her black stockings which she was wearing over sheer nylon pantyhose.
Indeed those stockings had an incredible sheen that radiated bands of iridescent light down her legs as she moved around and posed in her high heels.
Bex removed her dress to fully and stood with her hands on her hips, showing off her tight fitting basque with lace bra cups and the lacy black thong which clung to the area of her crotch.
Reclining on the couch she slipped off her heels, then teased the straps of her basque over her shoulders and pulled down the front to reveal the flesh of her pendulous breasts with their rosy pink nipples.
Bex posed topless and getting into a keeling position she presented her fabulous round ass, sheathed in shiny nylon and bound by her black suspenders that pulled taut on the tops of her sexy nylon stockings.