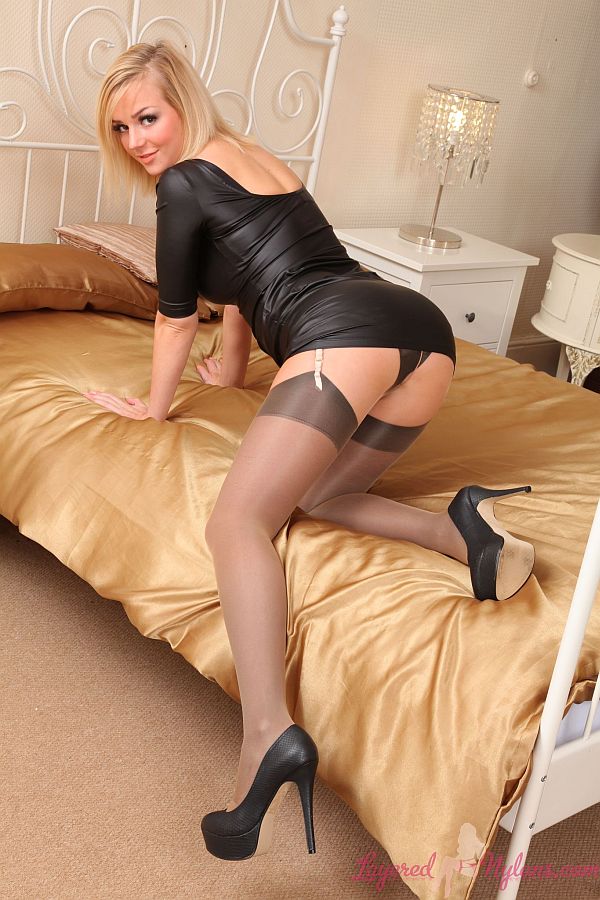 Victoria's Lycra dress was so tight fitting you could clearly see the outlines of her bra and suspender belt through the slinky black material that clung to her slender figure.
Sitting on the edge of the bed, Victoria slightly parted her legs and gave a tantalizing view up her dress at the crotch of her tan sheer nylon pantyhose, behind which we could see she was wearing a pair of black panties.
As she knelt on the bed she allowed the back of her dress to ride up and give us a view of her black panties underneath the layer of her shiny nylon hose that encased her gorgeous ass.
Leaning forward she pushed her ass upwards and the cream satin suspenders of her garter-belt stretched around the curve of her thighs and pulled taut on her black stockings.
Victoria then stripped off her dress to reveal she was wearing a silver and black, full cup bra and slipped the straps over her shoulders to uncover her all natural breasts and large pink nipples.
Posing topless as she reclined on the bed, she used her feet to slip off her heels and allowed them to dangle from her toes. Then she lay face down on the bed and stretched out her legs to offer close up views of the soles of her pretty feet in their layers of opaque beige nylon.
Victoria knelt once more and pushed her hands down the inside of her pantyhose, easing them down to show more of her creamy satin garter belt and suspenders that framed the area of her panties.