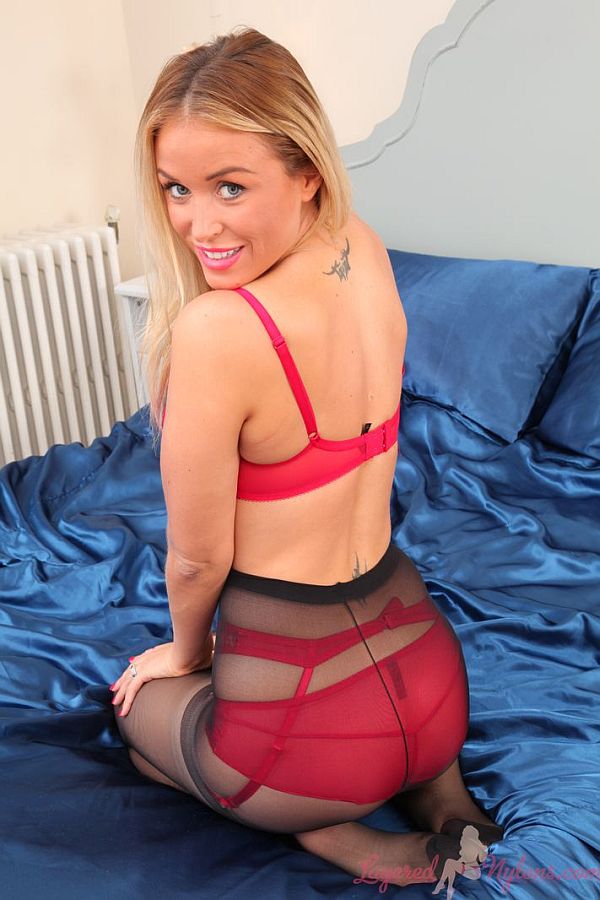 Rosie showed us her latest summer outfit consisting of a bright pink, sheer lace top, through which we could see her cleavage, a short, cheery red leather skirt and black heels.
Rosie slipped her fingers under the edge of her skirt, then slowly lifted it up her thighs to show she was wearing beige-tan stockings and red satin suspenders under her black nylon pantyhose.
She hooked her thumbs under the straps of her red top and pulled it down to uncover her fuchsia pink bra, then unzipped her skirt and let is slide downwards to reveal matching red suspender belt and panties under her sheer nylon tights.
Rosie slipped off her heels and knelt on the bed, offering a view of her pantied ass and the red suspenders attached to the tops of her tan nylon stockings. Then she looked back over her shoulder as she unclasped her bra and stripped it away to uncover her peachy breasts and pale, pink nipples.
Looking directly into the camera with her bright blue eyes she gave a smile, and posed topless with her arms framing the mounds of her all natural breasts. Then she lay face down on the bed and stretched her long legs over the satin sheets to offer close up views of her feet in their layers of black nylon.