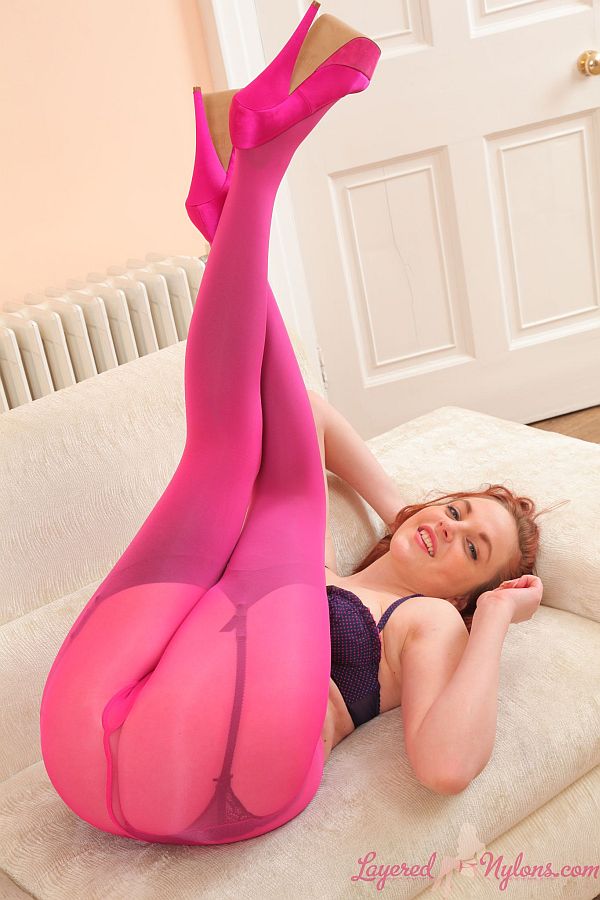 Kara Carter was wearing some very brightly coloured, pink tights layered over black suspenders and nylon stockings, all of which would certainly catch your eye if you saw her walking down the street wearing these.
Kara bent over so the back of her short black mini-skirt pulled tight around the cheeks of her ass, causing her long black suspenders to pull taut on the tops of her stockings.
Unzipping her skirt, she pulled it down her legs and kicked it away, then sat on the sofa giving a view of her pantyhose crotch behind which she was wearing black panties.
Kara lifted up her stretchy top and stripped it away to reveal her pretty bra and then lay back so she could lift up her legs and crossed her ankles to display her feet in their pink silk, stiletto heels.
Slipping off each of her heels in turn, she allowed them to dangle awhile from her toes, then stretched out her legs to offer close-up views of the soles of her nyloned feet.
Kara teased the thin straps of her bra over her shoulders and stripped it away, making sure to carefully conceal her breasts with her arms as she knelt and gave us more views of her ass and feet encased in layers of nylon.