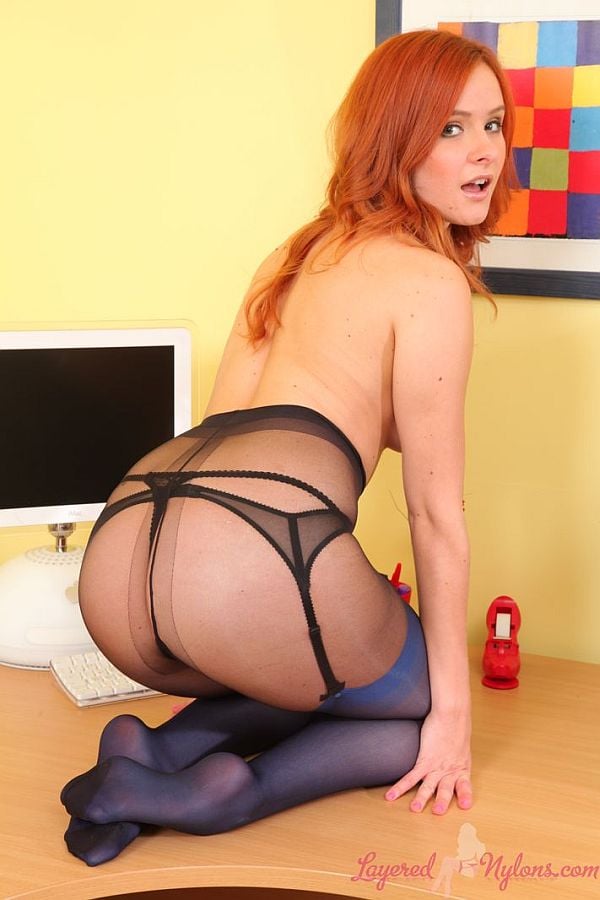 Elle's luxurious long red hair cascaded over her shoulders, contrasting against the bright blue top she was wearing, as she stood a posed in the office with her hands around her hips.
Sitting sat in the chair with her legs crossed so the hem of her short black skirt pulled up her thigh, she gave a tantalizing glimpse of the tops of her blue stockings, which showed through the black, sheer nylon hose that were layered over them.
Elle opened the front of her top to show off her cleavage, then stripped it away to uncover the pretty purple and black lace bra that supported her breasts. Then she turned and unzipped the back of her skirt and pulled it over her buttocks to reveal the back of her black pantie thong, and a black garter belt with long suspenders pulling taut on the tops of her blue nylon stockings.
Sitting on the desk she teased the thin straps of the bra over her shoulder and down her arms, then stripped it away to uncover her all natural breasts with their soft, pink nipples.
Elle removed her shoes and moved into a kneeling position on the desk to give a rear view, then she sat back against her heels to show off her lovely ass and the soles of her feet sheathed in their sexy layers of nylon stockings and pantyhose.