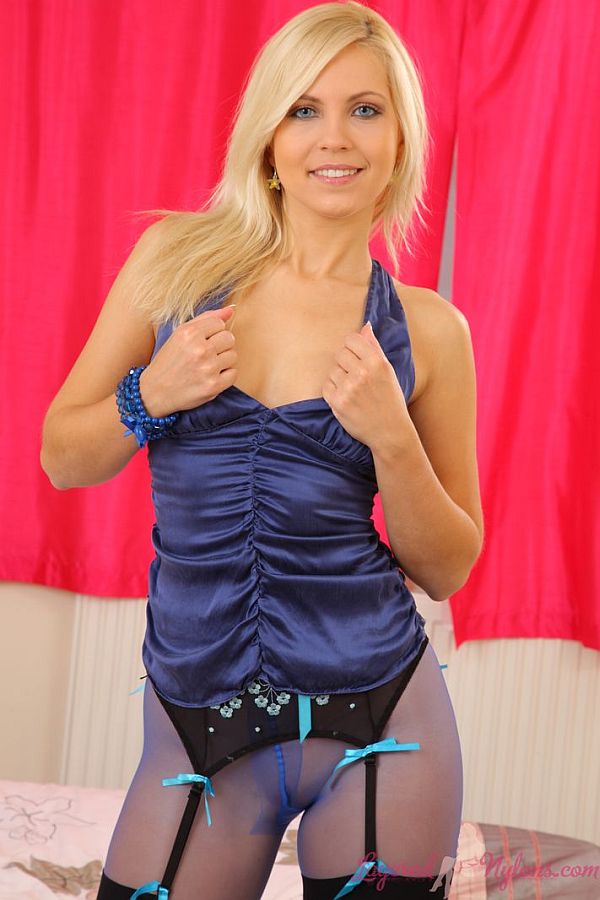 Jenni looks stunning as always and ready to party in her blue satin top, short black skirt, nylons and heels in her latest photo set.
Jenni sat on the edge of the bed and crossed her legs, causing the hem of her skirt to ride up her thigh and reveal that she was wearing a layer of black nylon stockings and suspenders over blue, sheer nylon pantyhose.
She got up to stand and lifted her skirt around her waist to show she was sans panties under her sheer nylon pantyhose. She hooked her fingers under her suspenders that covered the front of her thighs and tugged them so they pulled on the tops of her stockings.
Jenni unzipped her skirt and let it slide down her legs and posed to show her black suspender belt decorated with pretty turquoise flowers and ribbons, which framed the area of her nyloned crotch.
Unzipping her satin top at the back, Jenni pulled it over her head to reveal her petite all natural breasts and posed topless in her lingerie and layers of nylons. She then sat and slipped off her heels and extended one leg for a close-up view of the sole of her foot.
Standing once more she stood tiptoe in her nyloned feet and pushed her hands down the rear of her tights, sliding them over her thighs and spreading her fingers under the sheer nylon.