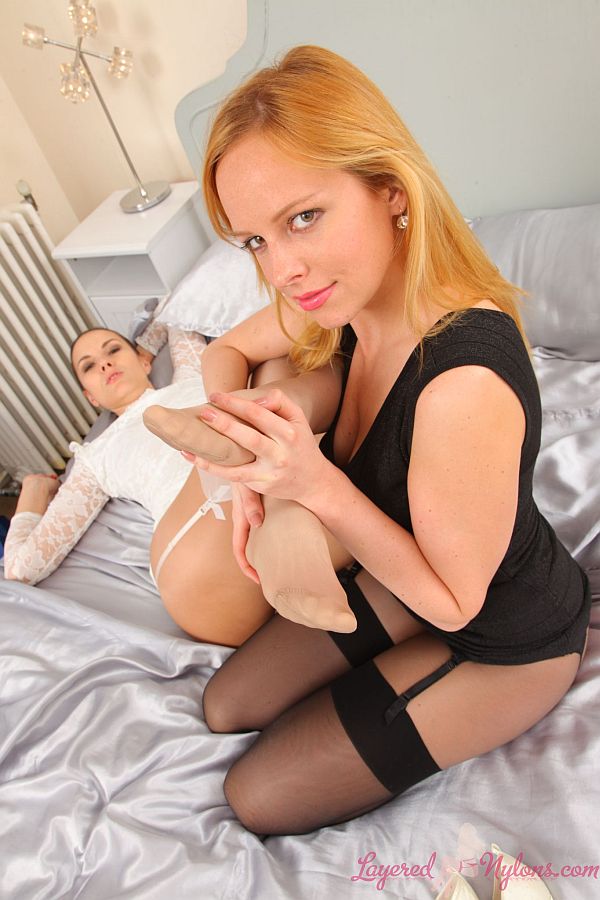 Monika and Zuzannah got together for an afternoon of girl-on-girl fun, and they had a hot and steamy session as they played together in their nylon stockings and pantyhose.
The girls embraced each other as they lay on the bed with their legs open to show that they were both sans panties under their pantyhose.
Helping each other to slip off their heels one by one, they then pressed and rubbed their nyloned feet together and lifted their legs for some close-up views of their nylon soles.
Having removed their tops, they embraced so their naked breasts were touching and their hands caressed each others pantyhosed asses and thighs.
Zuzannah's white suspenders stretched over the curve of her fabulous ass and pulled taut on the tops of her white nylon stockings under her layer of tan, sheer nylon pantyhose.
Redhead Monika wore her black suspender belt over her black nylon hose and Zuzannah had some fun tugging it down until it was slung low around Monika's curvaceous hips.
Both girls pulled at each others pantyhose and then rolled on their backs and lifted up their legs for a spectacular view of their sexy asses encased in layers of stretchy garterbelts and sheer nylon pantyhose.
What a sexy pair of girls they were as they cavorted on the bed, both arousing each other as they rubbed their bodies and limbs together, while wearing their sensual layers of nylon hosiery.