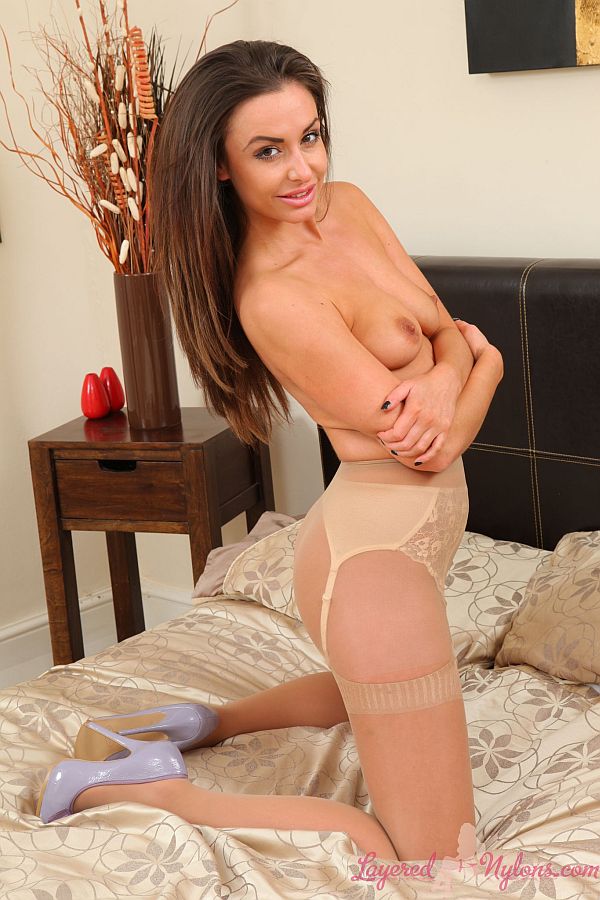 Sarah E had recently bought a very sexy white dress for for summer which she intended to wear at all the parties she had been invited too and wanted to know if she should wear beige nylon stockings or pantyhose to go with her outfit.
We suggested she should try wearing both together and layer her stockings under her pantyhose for maximum sexy effect.
So Sarah decided to try it and turned up for this photo shoot wearing her beautiful white dress and a daring layer of beige-tan, sheer pantyhose over some beige nylon stockings.
'Ooh, it feels quite sexy knowing I've got my stockings under my tights and no-one can tell, because they blend in quite well,' Sarah said, as she posed with her hands resting on her hips. 'Do you want to take at look at what I'm actually wearing under here?'
Sarah's legs looked fabulous in her layers of nylon and she turned to pull up the back of her dress and give us a quick look at her tantalizing suspenders attached to the tops of her beige nylon stockings.
Sarah climbed onto the bed and as she knelt with her legs slightly parted, we could see through the sheer nylon crotch of her pantyhose that she was sans panties. Then she lifted the front of her dress to strip it away and reveal her all natural breasts and a very sexy, cream coloured, lacy suspender belt that clung to the shape of her hips, under her hose.
Sitting on the bed she slipped off her heels and gripped her toes with her fingers for some close up views of the soles of her nyloned feet, then stood up and stretched the front of her pantyhose up her waist as high as it would go, which was just under her naked breasts.
Sarah finished off by laying back and lifting her legs to give more close up views of her pretty feet and toes as she pointed them in her sexy layers of tan nylon.