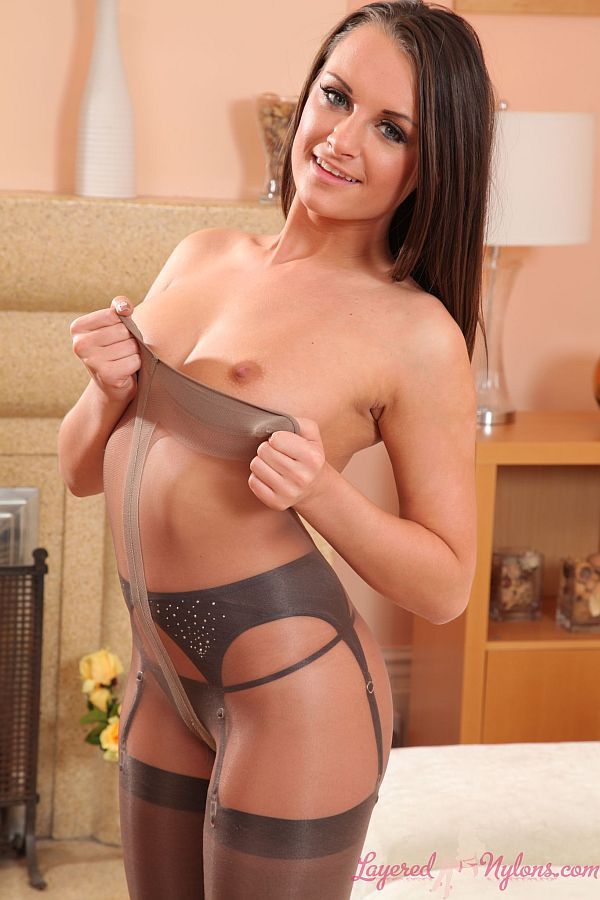 Siobhan stood with her hands around her hips and smoothed them over the material of her tight fitting dress that clung to the curves of her shapely ass.
She looked back over her shoulder as she pulled up the rear of her dress to show she was wearing black suspenders attached by metal clasps to the tops of her stockings under a layer of sheer, beige-tan nylon pantyhose.
Siobhan wrapped her arms around herself and lifted the dress over her head to reveal her all natural breasts, then lay on the sofa to stretch out her long legs in their layers of shiny nylon and stiletto heels.
Pushing her hand down the side of her hose, she slipped her fingers under the the tops of her black stockings and moved them playfully over the soft, flesh of her thigh. Then she lay on her back to give a view of her fabulous ass sheathed in shiny, beige nylon and lifted her legs to show that her stockings had a long black seam running up the back.
Siobhan stood once more and pulled on the waist of her pantyhose, stretching the taut nylon up her belly to the level of her breasts, almost covering the circles of her soft, pink nipples.
Slipping off her heels she then lay of the sofa and offered us close-up views of her dainty feet cocooned in their layers of opaque beige-tan nylon.